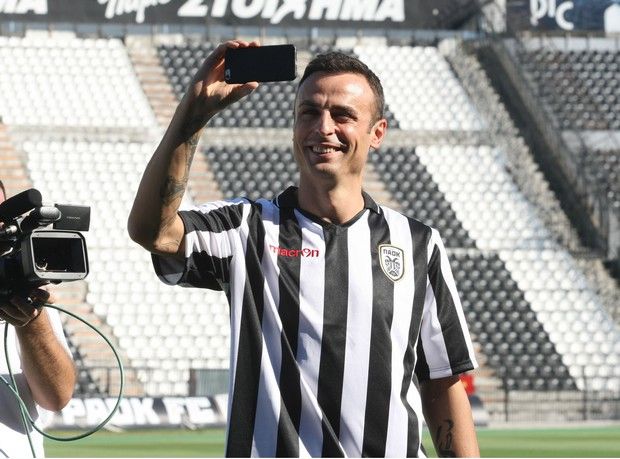 Athens, September 4, 2015/ Independent Balkan News Agency
By Spiros Sideris
Dimitar Berbatov was cheered during the presentation of PAOK in Toumba stadium in the presence of thousands of fans of the club who took photographs of him with the team jersey, but were also photographed by him.
The Bulgarian striker traveled from his hometown by car in an expensive black Bentley together with his father and his manager.
At the border crossing of "Promahonas" there was crowd from noon and cameras to immortalise his entry into the country.
The 34-year old footballer was content to say "I'm coming" from the driver's window and continued his course to Touba.
The fans had gathered from 15:00 noon with the slogan "the Bulgarian is 'crazy'" vibrating the atmosphere, while also present were several Bulgarian journalists.
At the time when the matrix played highlights from Berbatov's career in Germany, England and France, the doors to the gates 4 and 8 were also opened, after gates 1, 2 and 3 that were scheduled to host the fans became full.
"We are like brothers"
Around 16:30, the great Bulgarian footballer arrived at the stadium. The people of the club gave him a tour in the locker room and the indoor pitch and at 16:36 he went out on the pitch.
On the stances there was delirium, with Berbatov watching speachless, amazed by the reception.
The president of the club, Iakovos Angelidis, took the floor and welcomed the star of the team: "Thank you very much for your presence here. Dimitar, welcome to your home. Here you will experience the energy and passion of our wonderful supporters. This season, PAOK will celebrate its 90 years of history. On behalf of the owner I welcome you to Toumba. From today you are a member of the family of PAOK. We wish you to have a memorable stay in PAOK".
Then it was time for the star of the evening to speak, who said: "It's unbelievable. Thank you for the reception. I did not expect that. I am a simple man playing football. My father was born 50 km away from here. We're kind of like brothers. And because you always fight for your brother, so I will fight here, because we are like brothers. I want to thank Mr. Savvides for his perseverance to bring me here, to see how special this place is. We will celebrate all together".
Then he signed over some soccer balls, which he kicked at the stances.
What's more, he did not hesitate to take off his mobile phone and take some selfies with the world behind him cheering.
At about 16:50 he left to make it to the afternoon training of the club.
Photo: Sport24.gr