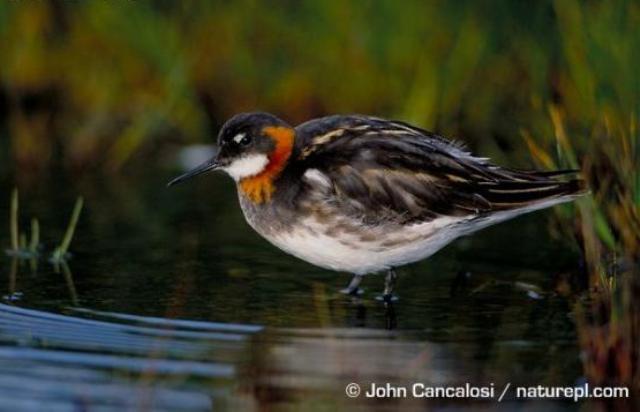 Tirana, March 26, 2015/Independent Balkan News Agency
A rare bird has been recently discovered in Albania. Phalaropus Lobatus. The discovery of this rare bird has been made during the field work in the framework of the project "The Land of Castles and Eagles" from the bird monitoring team. For the first time, they registered the presence of a new type of bird in Albania: Phalaropus Lobatus.
The bird (photo) was observed in the Key Biodiversity Area of Narta Lagoon during the migration count.
The Red-necked phalarope is a wader (belongs to the family Scolopacidae from order Charadriiformes) that breeds in wet marshes, pools and osier delta lands on mountainsides above tree limit or on tundra in Arctic zone.
It migrates in August-September (mainly non-stop) towards SE across Europe to winter in Arabian Sea, where it leads pelagic life far from land.
The Red-necked phalarope is rarely observed during the autumn passage in Europe, including the Balkans, found mainly at coasts, inland marshes and pools.
The typical avian sex roles are reversed in this species: females are larger and more intensively colored than males in summer; they pursue and fight over males, and will defend their mate from other females until the clutch is complete and the male begins incubation; the males perform all incubation and chick-rearing activities, while the females may attempt to find another mate.
Another discovery from the Albanian flora and fauna was marked at the start of this month. Albanian botanists discovered a plant which was named "Glittering Bell".
It was discovered in Tomorr Mount following cooperation between Croatian botanists and Italian ones. This plant was entered in the Register of Albanian Flora and is found in no other country of the world. /ibna/