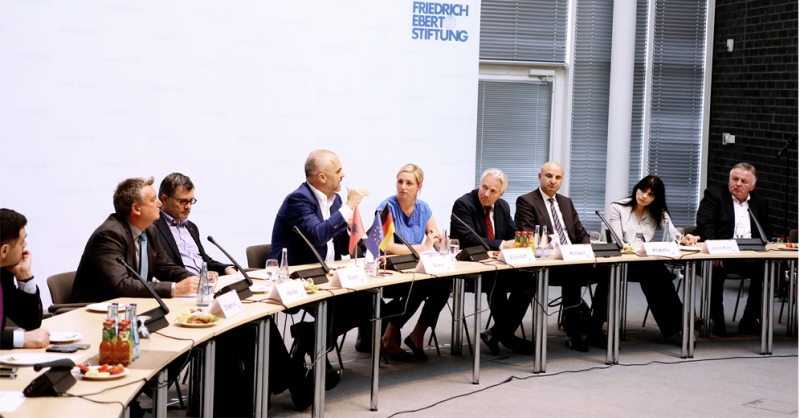 Tirana, June 18, 2014/Independent Balkan News Agency
Prime minister of Albania, Edi Rama is on a visit to Berlin, at the invitation of "Friedrich Erbert" Foundation to talk about the significance of the European Union for Albania and the Balkan region.
PM Rama said that Albania and the Balkan in the EU need each other.
"We have passed our test, although I believe that Albania deserved the EU membership candidate status since December. The failure to grant this status brought nothing good neither for Albania, nor for Europe, nor to the overall process of European advancement", said the prime minister.
Rama considered the status as an "anti depressant" for societies that aspire the Union.
"The EU membership candidate status is an entirely different thing from EU accession, but it's also something which doesn't directly relate to negotiations. It's some sort of anti depressant for societies that need hope, while they're not entirely ready to be part of the EU or launch negotiations", said Rama.
According to him, European Union is not only a vision for the Balkan, but also a necessity for societies and the countries of a region who is living its first year without conflicts, after a bitter past.
"According to me, it's unreasonable not to grant the status. To grant the status is not only reasonable, but it means giving nothing and benefiting a lot more in return. The status would offer people hope and faith in the future, in a very difficult area, due to economic problems, unemployment, social problems and last, but not least, it's enough to take a look at the Balkan today. This is a special moment in our history and our existence, because it's the first time that we're living without conflicts, because the path to peace becomes easier if you tell people that there's something more important than traditional conflicts, which is European integration", said premier Rama.
At the end of his speech, the head of the government said that "Balkan cannot prosper without the joint contribution of all its countries and without the support of the European family". /ibna/