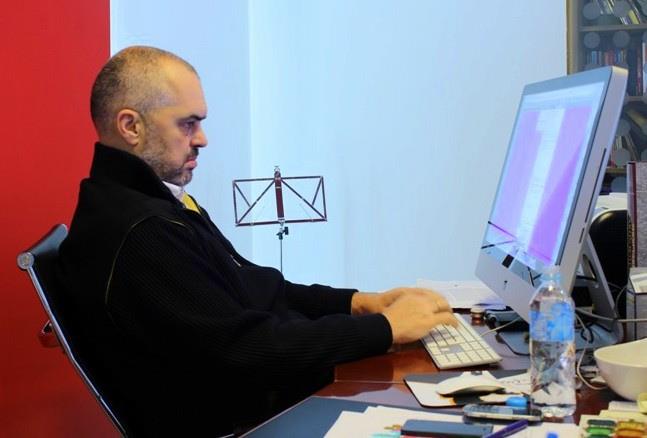 Tirana, October 1, 2013
Like he had announced, prime minister Edi Rama started his conference on Twitter.
Asked about a project of Greater Serbia, which stated that Berisha's government had agreed, the head of the government said that, "There is no such project. The previous government has a lot to be blamed of, but not on this one".
Rama responds about the programs on education and transparency and verity of tests, while adding that State A-Level exams will be reformed based on competition and merit.
Rama continues by saying that structures will be reformed and corrupted people will be hit and while praising the first 10 days of work of the Minister of Interior, Saimir Tahiri, Rama expresses his belief that State Police will return on duty.
As far as the lifting of VAT is concerned on basket products, he says that all promises will be kept.
Meanwhile, the prime minister says that every servant of the state who is on duty thanks to merit will be respected even more today.
The PM continues by saying that there will no longer be commercial activities in schools, as this has resulted in many problems.
Asked about how this government will act on the decisions taken by the previous government, Rama declared that this government has started the abrogation.
Meanwhile, he considers the economic crisis as deep and says that a radical intervention is being prepared.
He also says that a group of experts will soon start work to take the reform on justice forward.
As far as employment in the administration is concerned, Rama says that there will be frequent public announcements, continuing with the words, "We will not cleanse the administration from people but the state from corruption. We will open new jobs for young people through professional education, investment on production activities and real competitions".
As far as the postponement of the bill on civil servant is concerned, Rama says that, "The vacuum that the law in question creates is dangerous and the law itself is inapplicable due to the lack of bylaws".
Prime Minister Rama also recalls the promise to stop the import of wastes, saying that this was done since the very first day of the government in office.
Asked about the Republican Guard, Rama says that, "The Republican Guard is an unprecedented structure in the contemporary world. Its dissolution is a structural need of the state".
Moreover, he says that the territorial spaces that have been invaded for purposes of gain will be freed.
As far as the problems of toponyms in the passports of emigrants' children are concerned, Prime Minister Rama says that, "We're working to come up with a final solution to this problem inherited by the carelessness of the previous government. We will be closer to emigrants than the previous governments".
As far as the promise for employment is concerned, Rama says that, "The government has not even been 15 days in office and doesn't have a magic wand to change things in the blink of an eye! Security will come faster than employment, but in four years time we will be held accountable for every promise." /ibna/