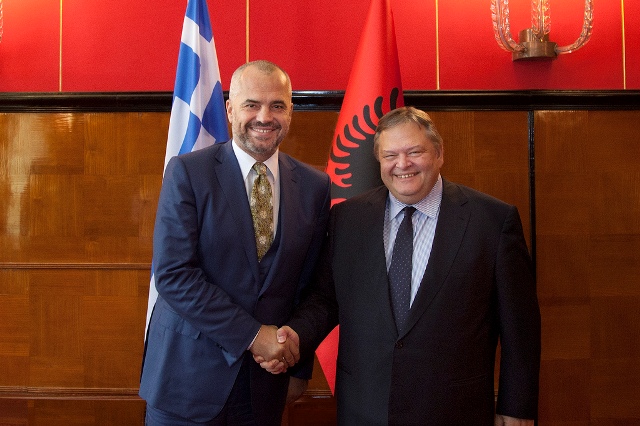 Tirana, October 14, 2013
Prime Minister Edi Rama has received today the Greek Foreign Minister, Evangelos Venizellos in the framework of his visit to Albania.
During this meeting, Rama praised the cooperation between the two countries and stressed the will of the Albanian government in order to offer this collaboration a new dimension in the spirit of friendship and the best interest of both countries.
During this meeting, both interlocutors stressed the bilateral relations that exist between the two countries.
Rama stressed that the Albanian government remains determined to strengthen regional collaboration. Premier Rama said that the agreement reached between Kosovo and Serbia opens a new chapter in the relations between countries of the region.
PM Rama also thanked minister Venizelos for the support that Greece has given and continues to give to Albania in the process of integration and in the framework of the next Greek presidency EU.
On his part, minister Venizelos congratulated Rama on his new position and expressed the readiness of his government to take relations between the two countries to a new level of cooperation. /ibna/