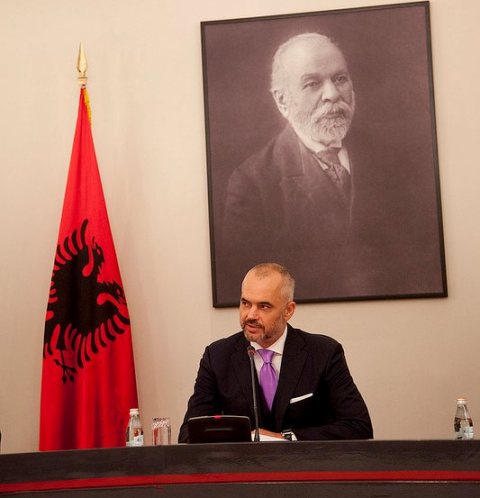 Tirana, September 18, 2013
Prime Minister Edi Rama received today in a meeting the President of FYR Macedonia, George Ivanov, who is in Albania in the framework of the summit of the countries of the region. In the joint press conference, Rama expressed the positioning of the Albanian government for good relations in the region. In his speech, the head of SP has also talked about the implementation of the Ohrid agreement. "We have been and remain concerned about the implementation of the agreements made with international authorities in the region for the cohabitation of Albanians in FYROM", said Rama.
Prime Minister Rama said that the integrity of FYROM is important to Albania, as it relates to the stability of the region. "To us, integrity of FYROM is very important not only because there's a large number of Albanians living there, but also because FYROM is a key player in the stability of the entire region", said Rama.
Prime Minister Rama has demanded more collaboration to take place with FYROM, adding that after the agreement between Kosovo and Serbia, new times have come for the region and Balkan countries must see the possibility of collaboration with a new vision. "We have been, are and will always support the strengthening of collaboration between the two countries and two governments. This is a new era after the agreement between Serbia and Kosovo and in this new era, FYROM and Albania must move forward with a new vision, ideas and projects", said Prime Minister Rama. /ibna/