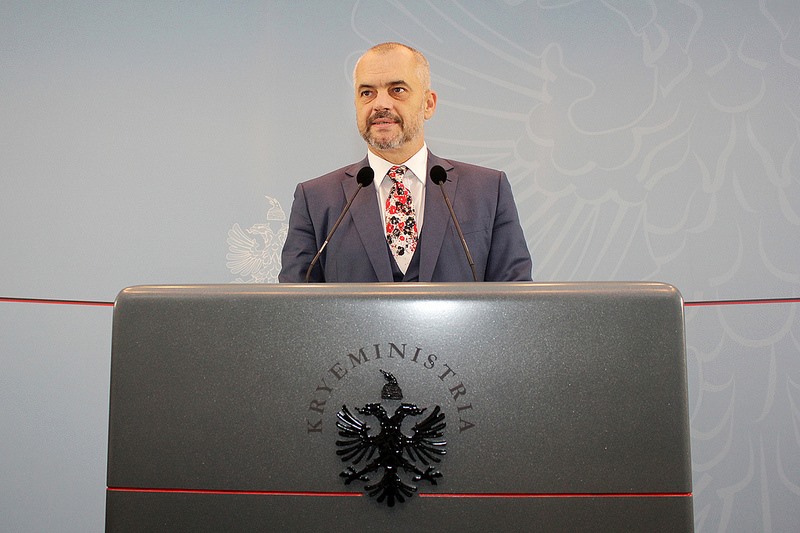 Tirana, October 8, 2013
Prime Minister Edi Rama has gathered today the National Council for the Territory and at the end, he delivered a press conference.
Rama talked about illegal constructions mainly on the sea coast, saying that they have become increasingly worrying.
The PM classified as problematic the contamination of lagoons, uncontrolled wastes which increase in a chaotic way, considerable discharges of sewages in important segments of the sea, barbarian interventions in rivers and damns, deforestations, etc, by stressing that this situation is causing biodiversity to be lost.
The head of the government added that a degradation is noticed in the monuments of culture, underlining that in all these problems, there's a parallel phenomenon, that of appropriating land as a result of the undefined ownership on land.
The Prime Minister said that a part of the damages is irreparable, such as in the beach of Golem or the serious pollutions in the areas of Adriatic, stressing that the cancer on the Albanian coast will be stopped.
Amongst others, Rama said that cultural heritage is an imminent danger, stressing that every new development will be blocked along with every individual object as far as Berat, Argirocastro and Kruja are concerned, because Berat and Argirocastro are rare examples of cultural heritage and of the inertia of destruction.
The Prime Minister declared that Argirocastro is on the red list of destruction, risking getting out of this list and by saying the same thing about Berat and Kruja.
Rama said that there will be a special plan of measures to protect these three towns.
The head of the government also said that the construction of the great mosque will be allowed, but nothing else will be allowed to be built in the vicinity of the cult object. /ibna/