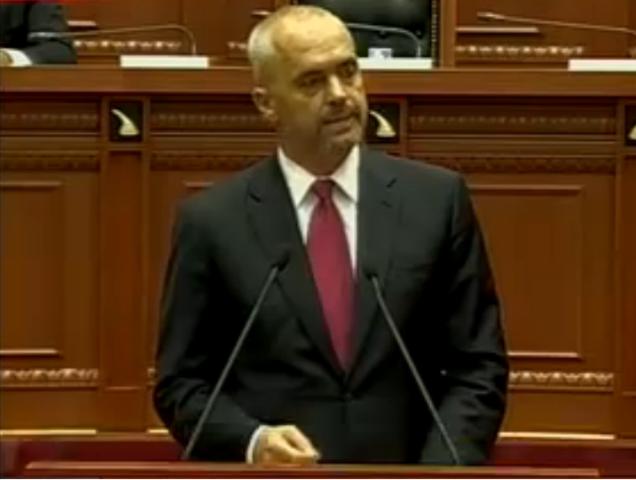 Tirana, September 11, 2013
Parliament has gathered today and mandated Prime Minister, Edi Rama is expected to announce the full governing program.
At the start of the session, parliamentary speaker Ilir Meta said that opposition MPs will be given time until tomorrow at 8 pm to submit their questions about this program.
In his speech, the head of the new government, Edi Rama stopped on the attacks of September 11 in the USA, where he said that Albania will be alongside America and every alliance that USA will establish against this merciless enemy of freedom and democracy.
"In this podium I'd like to reiterate the fact that after the barbarity of chemical weapons used against the Syrian people on August 21, I, along with my predecessor have said that Albania supports every decision that the USA will take in the framework of this issue to punish the butcher of Damascus", said Rama.
Amongst others, the head of the Socialist Party added that the dream of democracy is still unfulfilled, as according to him, it's this unfulfilled aspiration that led the Albanian people to the ballot boxes of June 23.
Rama said that it were the unfulfilled aspirations that united in the ballot boxes both socialists and democrats, saying that this is the second most important change for the country, after the one in 1992.
Amongst others PM Rama added that, "Albania was not divided into two blocks, but decided for an indispensable change. It's not our scope to present this picture to the defeated side. I believe that Albanians voted us to put an end to the ordinary attacks launched against the opposition for years in a row. The victory was not achieved to change the Prime Minister or ministers, but the historical dimension of our victory was determined by the historical need for change, starting from the change of the governing model. I come prepared to tell the opposition that nothing that was denied to us yesterday, will be lacking to the opposition today. At the end it's the majority that decides, but what it's important is the quality of cohabitation".
Mr. Rama invited the speaker of parliament to be unbiased in this institution, saying that inappropriate insults should come to an end.
The end of the new government also said that Albania is left with the burden of a large wave of destruction and promised that the change is coming. /ibna/