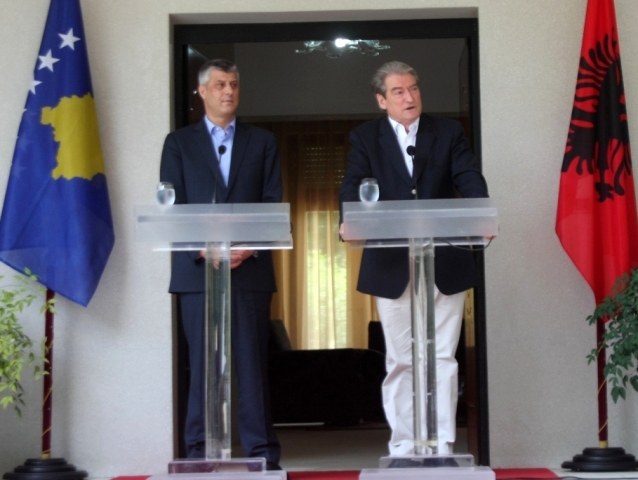 Tirana, September 6, 2013
Departing Prime Minister, Sali Berisha received today in a meeting the Prime Minister of Kosovo, Hashim Thaci, where he thanked him for this visit at the end of his term in office.
In a joint press release, Berisha congratulated Prime Minister Thaci for the Brussels agreement, by saying that this agreement opens a new chapter in the relations between Kosovo and Serbia and also in the relations between Albanians and Serbs.
According to him, the Brussels agreement is of an immense national importance for Albanians.
Meanwhile, Prime Minister Thaci considered this visit as a brotherly and friendly visit to thank Prime Minister Sali Berisha for the cooperation during these years between the two countries.
Thaci thanked the Albanian Prime Minister on behalf of the Republic and people of Kosovo for the extraordinary work done for Albania, Albanians, for the liberalization of visas, for the accession in the NATO, for the joint work which led to the independence of Kosovo and the new recognitions of this independence.
"Special thanks for Prime Minister Berisha about the construction of the Road of the Nation, because until 11 am I was in my office and now, from 12 hours, the journey between Tirana and Pristina lasts about two hours. Together we won freedom, we built the road of the nation. Thanks to Prime Minister Berisha for his constant support to Kosovo and its consolidation", said Thaci in his speech. /ibna/