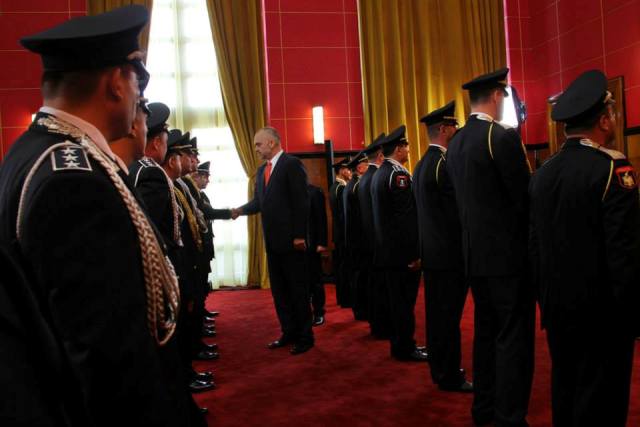 Tirana, October 26, 2013
In an activity organized at the center of police formation, in the framework of the day of police officers fallen in the line of duty, was also present Prime Minister Edi Rama.
In his speech, the Premier said that police officers fallen in the line of duty gave their life in the battle with crime, but stressed that the traces that they've left will be irreplaceable  for State Police.
"Irreplaceable will also be the trace of treason against police, but in the fight between state and crime, treason is the first thing that we've started to uproot in order to win this battle, by having a police force which doesn't lack devoted people and professionals. In the next anniversary, we will come back here with our head high, because we will complete our tasks", said Rama.
The head of the government said that work will speak and not words, while he expressed his gratitude for the work and sacrifice of police officers. Earlier, the Minister of Interior, Saimir Tahiri said that everything will be done to support the families of those who have fallen in the line of duty.
He said that 254 police officers have fallen in the line of duty, promising that a plan of measures will be drafted for their families, while stressing that the best service that can be rendered to the fallen ones is by fighting crime. /ibna/