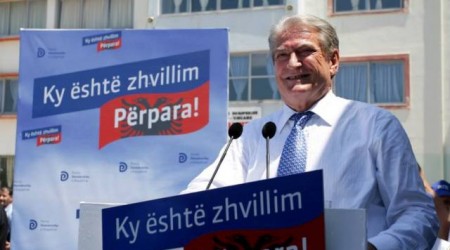 Tirana, June 11, 2013
Prime Minister Sali Berisha believes that the victory of the Democratic Party is in the hands of the people.
Inaugurating the reconstruction of the Civil Aviation Building, Prime Minister Berisha said to the participants that, "victory is in your hands. The extraordinary positive atmosphere is expected to turn into massive votes of the Albanian people".
"DP candidates are renowned personalities who have given an extraordinary contribution in the life of the country. You must do everything, meet every voter. If our platform is explained well, there's no reason for it to be refused. This is the platform of integration, platform of development, platform of employment and wellbeing", said Berisha.
According to the Prime Minister, Albanians must absorb the messages given in the squares of Albania, in order to enable the unification of Albanians on June 23. "Let us leave the head of the opposition where he is. After he lost every battle with me up until today, he has now started the battle of age", said Berisha.
Berisha said that "the Civil Aviation Building is the best proof of the quick progress that Albanian citizens have seen during these years. A few years ago, the number of passengers using Rinas Airport was around 700 thousand, whereas today it's 1.7 million".
"We enter these elections with a project which aims to turn Albania into a developed country. Albania has seen rapid growth. In the next four years we will become an  EU candidate member and we will open the negotiations for full accession in the EU. This has great advantages and brings hundreds of millions of Euros into the country", said Prime Minister Berisha in the ceremony of the inauguration of the Civil Aviation Building. /ibna/