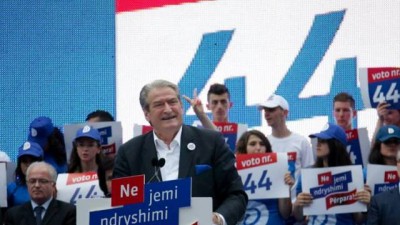 Koplik, June 5, 2013
Prime Minister Sali Berisha said today during the inauguration of the road linking Shkoder to Hani i Hotit that, "the flat tax is the most honest tax of all times".
Referring to the opposition, Berisha said that, "the tax offered by the leader of the opposition is a tax presented for the first time at the second article of Marx's Communist Manifesto".
"Progressive tax is the tax which makes foreign investors leave Albania, the tax that destroys thousands of jobs", said Berisha.
Prime Minister Berisha asked the inhabitants of the area of Malesi e Madhe to vote "altogether for the integration of Albania, for the EU candidate status, for the opening of negotiations, for the finalization of the full infrastructure of the country, for the creation of new jobs".
Amongst others, Prime Minister Berisha said during this meeting that, "with the construction of this road, the Albanian citizens and the friends of Albania travel in new roads that have been built from 2006 until 2013. Every person that enters Albania today from Morin in Kukes, Qafe Morine in Tropoje, travels in new roads built from 2006 until today. During these years we built together over 10 thousand km of road and employed 57 thousand people.
During these years, over 13 thousand schools were built throughout the country and now students study in schools which meet European standards. During these years we doubled pensions in the rural areas, increased wages of teachers, nurses and doctors. By lowering taxes, small businesses in Albania grew by 80%, large businesses by 200 to 300%. During these years, together we managed to make the country a member of NATO, signed the Stabilization and Association Agreement, we managed to lift the visa regime in Europe and managed to deserve the EU candidate status.
During these years, Albania, which didn't exist in the tourist map of the planet, managed to be ranked according to the World Bank amongst the ten countries with the fastest growth of tourism in the world. Around 150 thousand people were employed in this sector. During these years we also built many hydro plants, which will secure the country a lower cost energy", said Berisha during his speech.
"In the four years to come, our aim is to be granted the EU candidate status, to open negotiations, to lift the visa regime with the USA. In the four years to come we will lift taxes for every machinery that businesses use in order for business sector to expand by 40%. Foreign investments in Albania will grow by 40%, from 4.2 to 6 billion USD. This will increase employment in the country by at least 30-40% in the country", said PM Berisha.
Premier Berisha also promised that the four years to come will be the years of massive employment in Koplik. /ibna/