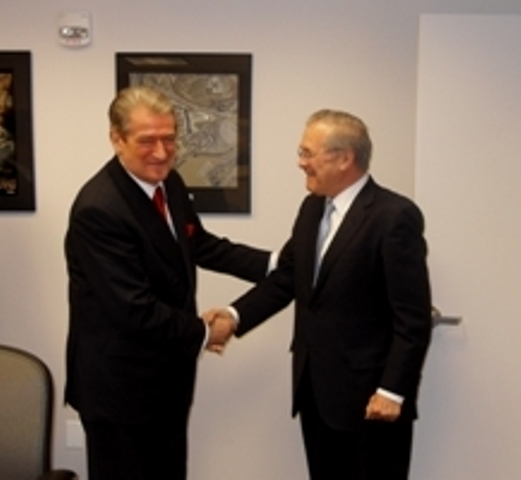 Tirana, June 17, 2013
Albanians bring positive energy to NATO, said today in Tirana the former US secretary of defense, Donald Rumsfeld, who praised the important role that Albania plays in the North Atlantic Alliance.
In a joint Town Hall with Prime Minister Sali Berisha, Rumsfeld said that Albanians will know how to convey a positive energy in the framework of NATO.
"I support Albania and I have faith on the Albanian people. I know what Albanians bring, they bring positive energy. You know how to develop a kind of honesty for the country", said Rumsfeld.
Former secretary Rumsfeld hailed the achievements made in the past 20 years in Albania in overcoming a truly difficult transition. "Things cannot be achieved alone, we praise Albanian's partnership", said Rumsfeld.
Meanwhile, Prime Minister Sali Berisha considered former secretary Donald Rumsfeld as one of the best friends that Albania has. He thanked him for the assistance given to Albania in its efforts to become a NATO members, as the greatest event in the history of Albania after the proclamation of independence.
"We're very proud that you're in Albania today, because to us, you are one of the greatest personalities to which we are very grateful. I praised the decision of the President of Republic to decorate you with the National Flag order. Our flag is the most supreme symbol to us and this flag is given to a friend who helped us to become NATO members as an alliance of values, peace and security", said Berisha.
Donald Rumsfeld was decorated today by the President of the Republic, Bujar Nishani with the "Order of the Flag". /ibna/