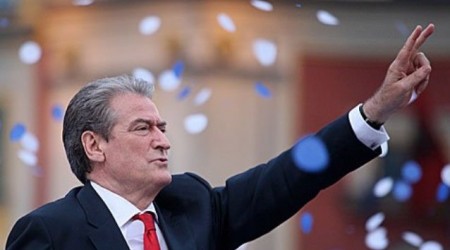 Tirana, June 10, 2013
Prime Minister Sali Berisha inaugurated today the reconstruction of "Petro Nini Luarasi" boulevard in Tirana. "A new chapter has opened for Tirana. In 11 years, only 3 road segments were paved in Tirana. Within the next 2 years, we will complete all of them", said Prime Minister Berisha.
Berisha also talked about the electoral campaign. " A civilized electoral campaign is taking place through which we're revealing our alternative for further development, modern infrastructure and the increase of wages and pensions. There's another campaign which is based on lies and insults", said Prime Minister Berisha referring to the campaign of the opposition.
Prime Minister Sali Berisha also invited people to salute each other as much as possible with their two fingers. "I invite all democrats to greet each other with the two fingers in the remainder of this campaign. Not only because they're the symbol to what the free people of Albania achieved against a barbarian regime, but it's also the most beautiful bouquet of the June 23 victory", said Berisha during this inauguration. /ibna/