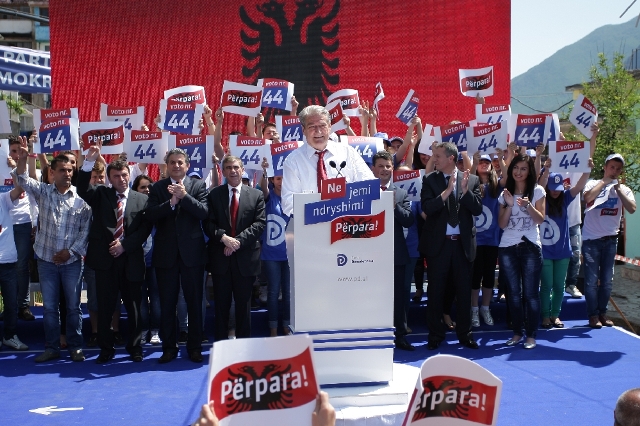 Korce, June 19, 2013
During a meeting in Bilisht, Premier Sali Berisha asked voters to vote the Democratic Party and no. 44.
Berisha said that he brings to this area messages from all over Albania, in order for everyone to vote for the project of developed and European Albania on June 23.
"Those who consider votes as bullets belong to the communist regime. We will increase wages and pensions, minimum wage and we will make teachers' wages 700 USD. We are reducing taxes for the business in the country, in order for the business sector to expand all over Albania. For your employment, we are doing everything to double tourism, to increase farmers' grants from 56 million to 165 million Euros", declared Berisha.
Berisha said that the alternative of the Socialist Party creates monopolies, because if VAT is lifted, domestic production will rot on the fields, while socialist monopolies will destroy farm and agriculture.
Premier Berisha called upon socialists to ask themselves as to why the leader of SP, Edi Rama has never mentioned the words "wage increases, pension increases, roads and integration".
"This is the model of a man who builds villas without declaring his incomes. I've been in politics for 20 years and I've only managed to buy a 125 square meter apartment. Politicians cannot conceal their money, they must make them public. Therefore, I invite you to vote for higher wages, for more jobs, for a modern infrastructure. On June 21, I invite you to celebrate in Tirana", said Berisha. /ibna/