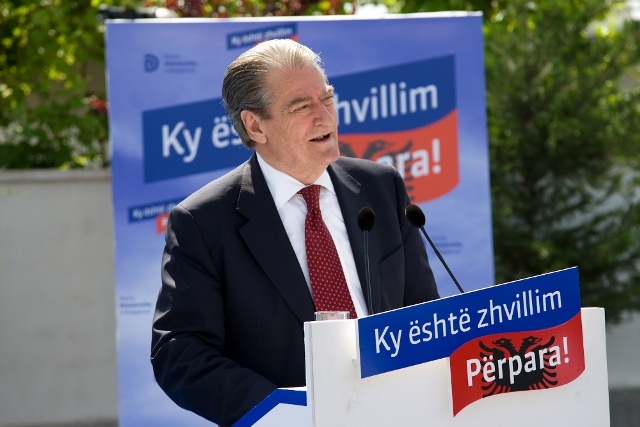 Tirana, May 17, 2013
During a meeting with journalists in the city of Korça, Premier Sali Berisha declared that the Democratic Party doesn't hold polls, because it doesn't believe in it, expressing his belief on the rationality of people.
As far as the opposition coalition is concerned, Berisha said that 4 communist parties joined and that the head of the Socialist Party, Edi Rama remained with a group of dictators and hopeless losers in politics.
Berisha underlined that only the platform of the right wing is able to carry out reforms, because the left is a catastrophe.
Berisha said that Edi Rama took Koço Kokëdhima in his party, but lost the spirit in the party and opposition.
Asked about his collaborators at the Democratic Party who have not been included in the lists, Berisha said that none of them was left outside because they have not been collaborators.
"On the list I have three socialists, who are my allies. Mr. Meta, with whom I had an agreement to govern, abandoned the agreement two months ago. He wanted to overthrow my government, wanting to build a technical government, but the Constitution only provides for a government of majority. They believed that time had come to fulfill a dream of Edi Rama which was not fulfilled 4 years ago. Socialist MPs made sure that the country didn't go in crisis. I put the socialist MPs on the list. A bigger interest prevailed over the interest of the DP", declared the PM.
The head of the government reiterated once again his readiness to gather Parliament in order to vote the members of the Central Election Commission, but stressed even when there were 7 members in the CEC, Rama didn't recognize the elections.
Asked about the use of the administration in the electoral campaign, Berisha said that the administration has all the right, besides army, police and Secret Services, to be involved in the campaign, but without violating the official hours of work.
Meanwhile, Berisha said that as soon as the campaign starts, no official means of the administration can be used for the campaign, besides the party fund.
Berisha said that he invites administration officials not to be threatened by Edi Rama, saying that the head of the SP calls teachers ignorant and police officers bandits.
Berisha said that every accusation launched by Rama is the lie of a failed man. As far as the post electoral coalition with Bamir Topi, head of the New Democratic Spirit Party is concerned, Berisha said that he joined Edi Rama bearing in mind the fact that he voted for him in the local government elections. /ibna/