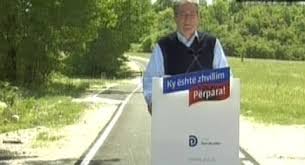 Gjirokaster, May 20, 2013
Prime Minister Sali Berisha inaugurated today the reconstruction of the road that links Llongo to Koshovice in Gjirokaster. Greeting the residents of this area in Greek, the Prime Minister said that "years ago I have tried to learn Greek, but never succeeded."
In his speech, the Prime Minister has blamed the two leaders of the left wing of discriminating the minority. "We're ahead of the elections. This may only be considered as an opposition, because for 11 years, Mr. Rama has been the second most important person in the country as mayor of Tirana and Meta was 4 years in the government, after which he left because he wants to be the head of the SP or take over my chair, but he will never succeed in this. They have shown an abnormal approach toward the Greek minority", said Berisha.
According to the Prime Minister, the bargaining made by the leader of the Unity for Human Rights Party, Vangjel Dule, was indecent. "This party had representatives at the CEC, Jani Jani. He was your representative, but he abdicated his seat due to the bargaining that he made with Rama. We present today your son, who has been an advocate of your rights, this is minister Spiro Ksera. My friendly call is to vote Spiro Ksera, who's a promoter of all the projects in the area of the Greek minority. He's an MP who listens to the problems of the people", said Berisha.
Enthusiastic about the work done in the infrastructure of the country, Prime Minister Berisha said that "I came to Koshovice today from Vlora. Not much is left to finalize one of the most beautiful roads in Albania, Tepelena-Levan. This is the change. If road would have another name, it would be called hope, because it gives hope to the residents that live there, it increases the price of land, it opens new jobs, businesses and potentials", said Berisha.
"We have had difficulties, but we have changed the country. With this road, Koshovica is different to what it was before. Gjirokaster, Tepelena, Dropull, Saranda have changed with the roads that we have built", said Berisha.
Berisha also invited farmers to apply for grants. "Apply for grants for your farms. I would appreciate your application for projects", said Berisha.
The road inaugurated today serves to 1150 residents of this area and is funded by OFID and the Albanian government. An important part of this investment has also been a 270 m long segment which links Koshovice with the border crossing point with Greece./ibna/