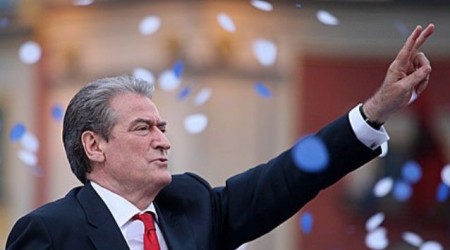 Elbasan, June 12, 2013
During an electoral meeting held today in Tregan, Elbasan, the head of the government,
Sali Berisha declared that the highway that links Tirana to Elbasan will soon be completed.
Berisha also talked about several other road segments that will be built, stressing that the wealth of these areas will become a great potential for all Albanians and tourists. Prime Minister Sali Berisha also said that everything will be donein order for school children to attend schools with modern laboratories.
According to him, the University of Elbasan has currently tripled the number  of students, thus guaranteeing the future that the people deserve.
"Vote for the most modern infrastructure of your area, vote for the employment of the people of these communes and of the entire Albania. Vote for their farms. In the next four years we will quadruple grants for you, we will refund the excise of diesel and all other inputs which will be used in your farms. The other alternative held protests when we were becoming NATO members, when the visa regime for the country was lifted and when the EU candidate status was recommended, it blocked the three laws", declared Berisha referring to the opposition. /ibna/