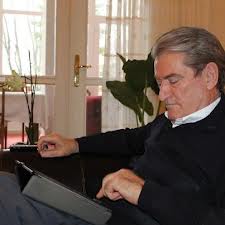 Tirana, April 21, 2013
Prime Minister Sali Berisha has once again hailed the agreement reached on April 19 between Kosovo and Serbia in Brussels, by considering it a true historical agreement.
According to him, this agreement is a solid proof to the consolidation of Kosovo as an independent state, whilst with its implementation, the agreement will act as the basis for the normalization of relations between these two independent states and the Serbs and Albanians will start a new era in their relations, in the best interest of their European future.
"The agreement is a major contribution to peace and stability in the region. Through this agreement, Kosovo succeeds in making Serbia recognize and accept its territorial integrity and also manages to establish cooperation with this country and guarantee its EU integration perspective.  With this agreement, Serbia detaches itself from an unfavorable recent legacy. As the Prime Minister of this country declared, Serbia would focus in its European future. Once again, I would like to congratulate all those who enabled this historical agreement in the best interest of the Albanians, Serbs and the entire region", writes Prime Minister Berisha in a post on Facebook.
Moreover, Prime Minister Sali Berisha encourages his virtual friends to ponder for a moment the fact that the chairman of the Socialist Party, Edi Rama has hindered the EU candidate status for Albania by not ratifying the three important bills needed for it in parliament.
"In this case, we can only say 'may God protect Albania from Albanians such as this one'. June 23 is coming. Albanians will vote in order to destroy the wall of blockade and for their European future", writes Berisha on Facebook. /ibna/