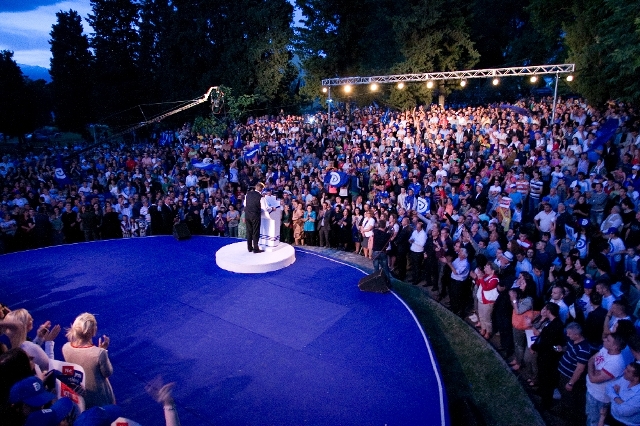 Tirana, June 13, 2013
Prime Minister Sali Berisha  asked voters of the Socialist Party today to vote the Democratic Party, because according to him, "the man who led you into defeats doesn't deserve to be followed any more", said Berisha referring to the leader of the SP, Edi Rama.
These elections are of a crucial importance, they are key to employment of the citizens of Tirana and the entire country, said Prime Minister Berisha today during an electoral meeting in borough 7 in the capital.
During this meeting, Berisha said that 30 thousand people will be employed in 2 industrial parks which are being built near Tirana. Berisha said that the natural resources of the country will be exploited in order to improve the welfare of the people.  He also mentioned what he called as two great projects which will be soon implemented, the Cascade of Devoll, where 1 billion USD will be invested and the Trans Adriatic Pipeline project.
Meanwhile, the mayor of Tirana, Lulezim Basha, who was present in this activity, referred to the process of legalization of buildings. According to him, the municipality of Tirana will now be engaged 24 hours a day in this process.
Basha also launched accusations against former mayor of Tirana and current leader of the SP of doing nothing in this area and said that he has only worked for his personal interest. Basha also said that the urban planning of the capital is now a reality and that thousands of jobs will open and the country will see more development with the government of the Democratic Party and Prime Minister Sali Berisha. /ibna/