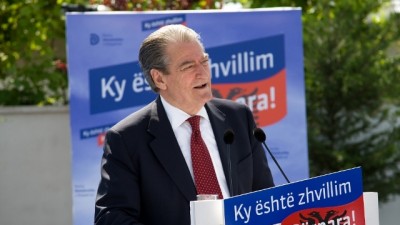 Lezha, May 21, 2013
During the inauguration of the road that links Shen Koll to Tale and Hidrovor in Lezhe, Prime Minister Sali Berisha said that the motto "Forward" that the Democratic Party in power has chosen has to do with the fact that "we want to move forward quickly toward road infrastructure, wellbeing and fast integration."
"We can still remember the long hours without power supply, water supply, when pensioners received only 3400 ALL a month, when roads were destroyed. Today I travel and I see the rural areas where farmers want to be supplied with power because their farms are turning into businesses. I promise you that we will invest in order for the most remote village to be supplied with power the same as urban areas", highlighted Berisha.
"Albanians all around the country are expecting the golden term, the fifth term in office. Let us move forward!", said Berisha.
Referring to the road that links Shen Koll to Tale and Hidrovor, Berisha said that, "this road serves to 9500 thousand residents and meets all the standards that we have promised. We will bring in rural areas the same infrastructure that urban areas have. The citizens of this country will enjoy equal services", said Premier Berisha.
According to Berisha, 300 km of roads, 15 water supply plants, 30 schools and 15 health centers have been built in Lezha. "In the four years to come, we will rebuild every km of road in Lezhe. We still have a lot to do", said Berisha in Lezhe. /ibna/