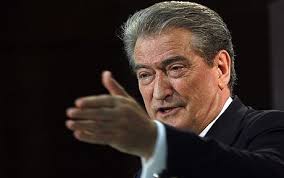 Tirana, May 28, 2013
Prime Minister Sali Berisha participated today in the Conference on the Energy Sector. During this conference, Berisha said that Albania's oil industry is very attractive.
"As far as energy is concerned, these have been the best years for Albania. Albania has more potential which needs to be exploited and an excellent natural position. Albania is a promising peninsula with its great reserves. The Balkan will be one of the regions with the biggest growth", declared Premier Berisha.
According to the PM, these years haven't been easy for the economy, but for energy in Albania these have been the best years in history. "We have signed with different countries 127 contracts for the construction of 363 hydro plants, out of 443 which have been planned to be built. Out of these 363, 53 have been finished and tens of others will soon be finished. The investment on the cascade of Devoll was launched a few days ago and we will soon have the commencement on the cascade of Fan", said Berisha.
In his speech, Berisha said that the government introduced a fair fiscal regime by lifting the tax on steel and cement for hydro plants.
According to the PM, the package of tax concession is not the last one, as in the four years to come, the government will be very active in the partnership between public and private sector. "We're a political force that believes on low taxes and we remain loyal to our platform", said Premier Berisha.
A cooperation agreement between Tirana Stock Exchange and Istanbul Stock Exchange was also signed during this conference. "This agreement puts to use the dormant capitals of the Albanian people", said Prime Minister Berisha during this conference on energy. /ibna/