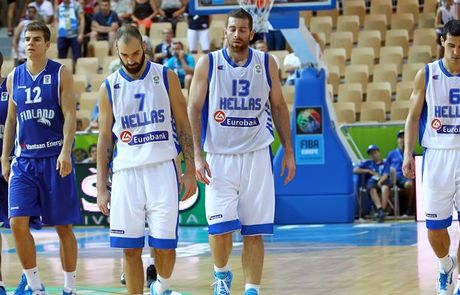 Review by Christos T. Panagopoulos
Group A
United Kingdom – Ukraine 68-87
Ukraine capped their EuroBasket preliminary round campaign in style. They knocked down Great Britain to enter the second stage of the competition. Great Britain fell at 2-3 record in Group A and lost a chance to advance into the next stage of the tournament. Ukraine gained an early 17:10 lead. Devon Van Oostrum and Kieron Achara (208-PF-83, agency: Two Points, college: Duquesne) put Great Britain within three points at the first break 18:21. But Pustozvonov and Olexandr Mishula drained three-pointers to boost the gap at 10-point mark midway through the second term. The margin quickly grew at 18-point mark. Ukraine arrived at the interval up by 17 points 48:31. Things hardly changed throughout the third term. Great Britain struggled to contain Ukraine offence. Mike Fratello team erupted for 22 points to ensure a 19-point lead at the final break 51:70. Kieron Achara dragged Great Britain within 14 points midway through the fourth frame. But Lypovyy and Igor Zaytsev helped Ukraine back to an 18-point advantage. Clark and Adegboye gave a glimpse of hope for the Brits cutting the deficit at 13-point mark with just over two minutes to go. But Jeter Pooh sank four points in a row and Ukraine rallied to the victory. Kyryl Natyazhko and Igor Zaytsev provided 11 points each for Ukraine. Jeter Pooh and Olexandr Mishula netted 10 points apiece for the winners. Kieron Achara and Devon Van Oostrum answered with 12 points each for Great Britain.
Belgium – France 65-82
France overcome a slow start to beat Belgium. They trailed 15 points in the first half but won 82:65. What a performance prepared for France the Belgian side. They erupted with a 30-19 surge in the third period and did not slow down in the second frame. De Zeeuw and Mwema scored three for 36:24 and Tabu brought 41:26. Mickael Gelabale (201-SF-83, agency: Three Eye Sports) and Hervelle exchanged threes for 46:32, whilst Diaw cut it to 46:34 at the halftime. France was unstoppable in the third period. They managed to take control of the game and needed 6 minutes to grabbed 51:50 lead. France posted a 32-9 burst in the third frame and had 66:55 after thirty minutes of the game. Van Rossom and Mwema reduced to 66:61, while Diot nailed three for 69:61. Mickael Gelabale and Lauvergne scored for 77:63 and Kahudi and Driesen scored the last points in the game. Parker top-scored for the winners with 20 points and Lauvergne nailed 14. Mickael Gelabale delivered 13, whilst Diaw had 12. Hervelle produced 13 points in a loss, whilst Sam Van Rossom had 12. Tabu nailed 11 and Mwema added 8.
Germany – Israel 80-76
Germany earned the third victory at the European Championship. They knocked down Israel to improve at 3-2 record in Group A. Per Guenther and Lucca Staiger stepped up with 15 points each to pace the winners. Israel fell at 1-4 record in the standings. Israel accounted for the opening four games in the clash. But Israel exploded with a 12:3 rally midway through the period to surge ahead. They registered a 20:12 lead after the starting quarter. Lucca Staiger and Zwiener dragged Germany within one and then Tadda put Germany in front 25:24. Soon Tadda made it 31:28 for Germany but Yaniv Green capped the half with a layup to cut the distance to a single point 30:31. Per Guenther scored five straight points to give Germany a 44:37 lead midway through the third term. Lucca Staiger added a three-pointer for a 47:39 lead. Israel narrowed the deficit at just two points 49:51. However Germany bridged two periods with an 8:2 run to gain a 59:51 advantage. Benzing made it a 10-point game 64:54 with just over five minutes remaining in regulation. Pnini and Lior Eliyahu answered with quick six points to keep Israel alive. Tibor Pleiss stepped up for Germany in the key moments giving them breathing room. But Omri Casspi (204-SF-88) and Yotam Halperin (193-SG-84) kept Israel in the game. Omri Casspi narrowed the deficit to just two points 76:78 with one second remaining in regulation. Lucca Staiger answered with two free throws and sealed the victory for Germany. Tibor Pleiss notched 14 points and 14 boards for the winners. Omri Casspi answered with 22 points and 13 boards for Israel. Lior Eliyahu and Yotam Halperin had 16 points apiece in the loss.
Group B
Montenegro – Serbia 83-76
Serbia opened the game with a 7-2 run and Kalinic made it 10:4. Katic and Bjelica scored for 19:8, whilst Stimac brought two for 23:15. Rice scored however 5 points in a row for Montenegro and cut t at 25:19 at the end of the first period. Sehovic later made it 27:27 and Kalinic against gave Serbia 35:32. Katic and Bjelica exchanged the baskets for 37:34 at the halftime. Serbia won the third period 21-20 and led 4 points early in the fourth. Montenegro grabbed 11-point lead with 5 minutes to go, while Serbia cut it to 80:76. Milko Bjelica however nailed a three for the final result. Tyrese Rice stepped up with 12 points for the winners and Bojan Dubljevic as well as Milko Bjelica had 11. Aleksa Popovic shot 10 points in the winning effort. Rasko Katic ended up with 19 points in defeat and Bogdan Bogdanovic poured in 14. Nemanja Bjelica produced 11 points in a loss, whilst Nikola Kalinic had 7.
Latvia – FYROM 76-66
Latvia clinched the crucial victory in the EuroBasket preliminary round Group B. They shot down FYROM to guarantee their Second Stage appearance. Kaspars Berzins stepped up with 15 points and 9 rebounds for Latvia before fouling out. FYROM finished their rather unimpressive campaign at 1-4 record. It was all Latvia in the opening quarter. The Baltic team opened the game on a 16:3 run. Latvia accounted for 27 points in the opening ten minutes to establish an 11-point lead. Latvia remained red hot offensively throughout the second stanza. They kept FYROM at safe distance building a 49:36 halftime lead. Strelnieks made it a 20-point game in the third term 59:39. The Balkan team capped the quarter on a 13:3 run to narrow the gap at 10-point mark. But FYROM could not get closer than 8 points throughout the final period as Latvia marched to the decisive victory. Kristaps Janicenoks (196-F-83) scored 15 points, while Martins Meiers (208-C-91) and Dairis Bertans added 12 points each for Latvia. Pero Antic (210-F-82, agency: Beo Basket) answered with 16 points for FYROM. Todor Gecevski chipped in 11 points in the loss.
Lithuania – Bosnia 72-78
Lithuania barely survived the test against Bosnia and Herzegovina and advanced into the next stage of the European Championship. The Balkan team needed a double digit victory to leapfrog Lithuania in the ladder for the place in the next round. And they almost completed the mission. Just late surge from Lithuania allowed them to avoid the disaster. Lithuania looked confident in the starting minutes. They gained a 5:0 lead early in the game. Bosnia and Herzegovina denied the deficit and the teams stayed neck and neck throughout the first term. The scoreboard read 18:18 after ten minutes. The sides changed leads throughout the second quarter. Elmedin Kikanovic (210-C-88, agency: Beo Basket) capped the first half with four points in a row to give Bosnia a 31:30 advantage. The Balkan team went on a 7:0 run midway through the third quarter to take a 50:46 lead. They ensured a 57:52 advantage heading into the fourth period. Mirza Teletovic and Nihad Djedovic gave Bosnia and Herzegovina a 65:56 advantage early in the final stanza. Nihad Djedovic, Mirza Teletovic and Sutalo stretched the margin to as many as 16 points 74:58 with just over four minutes remaining. Lithuania reacted with a 9:0 run to narrow the gap. Linas Kleiza (203-SF-85, college: Missouri) (203-SF-85, college: Missouri) drained a triple to cut the distance to just 6 points 70:76 with 51 seconds remaining. Mirza Teletovic gave a glimpse of hope for Bosnia hitting two free throws 78:70. But Martynas Pocius and Linas Kleiza sank two free throws in the dying seconds and Mirza Teletovic missed his three-point attempt as Lithuania got away with the needed result. Mirza Teletovic fired 31 points to lead all scorers. Nihad Djedovic added 20 points, while Elmedin Kikanovic added 10 points for Bosnia. Linas Kleiza responded with 20 points and 10 boards for Lithuania. Martynas Pocius had 14 points in the loss.
Group C
Slovenia – Poland 61-71
Poland down Slovenia in Celje at the end of the First Stage. The Polish side celebrated the initial 71:61 win to finish with 1-4 record. Slovenia meanwhile dropped at 3-2 record and advanced to the Second Stage from the third place. Poland won the first period 19-17 and added 17-11 rally in the second period. Waczynski scored for 59:45 and Kelati followed him from the arc for 63:47. Poland led 20 points with 3 minutes to go, but saved a 71:61 win. Thomas Kelati (195-G/F-82, agency: Beo Basket, college: Washington St.) paced all the winners with 21 points, while Marcin Gortat collected 19 points and 12 rebounds. Maciej Lampe (211-F/C-85) notched 8, whilst Lukasz Koszarek had 7. Lorbek answered with 13 points for the hosts and Goran Dragic put up 9. Mirza Begic produced 8 points and Jure Balazic had 7.
Georgia – Spain 59-83
Spain coasted to their fourth win at the European Championship. They thumped Georgia for 4-1 record in Group C. Georgia fell at 1-4 record and failed to qualify for the second stage of the tournament. Ricky Rubio posted 16 points to lead the winners. The lead changed hands for numerous times throughout close first quarter. Georgia and Spain entered the second term tied at 17. Rudy Fernandez and Ricky Rubio triggered a 15:2 to cap the half as Spain grabbed a 41:29 lead. Ricky Rubio, Rudy Fernandez and Calderon quickly boosted the gap to 20 points early in the third term. Spain arrived at the final break up by as many as 23 points 62:39. Spain never looked back in the fourth frame breezing to another comfortable victory at the tournament. Sergio Rodriguez finished with 15 points, while Sergio Llull (192-SG-87) and Rudy Fernandez added 11 points each for Spain. Giorgi Shermadini answered with 10 points for Georgia. Viktor Sanikidze (203-F-86) chipped in 8 points in the loss.
Croatia – Czech Republic 70-53
Croatia had to work hard to overcome pesky Czech Republic in the decisive game in the EuroBasket preliminary round Group C. Both teams had to win to guarantee the next round birth. Ante Tomic posted 12 points to lead Croatia to the much-needed victory. The lead changed hands throughout the opening quarter. Czech Republic eked out a 17:16 advantage after ten minutes. Barton and Satoransky helped the Czech team to a 25:19 lead early in the second quarter. The Czech side maintained the advantage and secured a 33:32 halftime advantage. However Markota and Bojan Bogdanovic put Croatia in front early in the second half. Ukic and Simon stretched the gap at 7-point mark 47:40 late in the period. Jan Vesely (211-F-90) capped the quarter with a layup to narrow the gap. But Czech Republic ran out of steam in the fourth stanza. Croatia went on a 12:0 run midway through the period to open a 68:51 lead and never looked back en route to the win. Bojan Bogdanovic and Dario Saric (208-F/C-94, agency: XL Basketball Agency) accounted for 11 points each in the victory. Pavel Pumprla answered with 19 points for Czech Republic. Jan Vesely had 11 points and 11 boards in the defeat.
Group D
Turkey – Russia 77-89
Russia beat Turkey 89:77, both face elimination of EuroBasket 2013. Both teams had nothing to lose in the game and could not make it to the next stage even in case the win. They both wanted to win however their last game and somehow excuse for the poor performance this year. Savrasenko was very active in the first quarter for Russia and managed to score 10 points. Turkey won the first period 17:16 and then Gonlum made two free throws for 32:28. Ponkrashov and v tied it at 32:32, while Arslan nailed three for 39:33 advantage. Antonov, Ponkrashov and Shved tied it all at 39:39. Gonlum meanwhile sent the teams to the lockers at 40:39. Russia won the third period 19-17 and got 61:57 lead from Khvostov early in the last period. Savas gave Turkey 65:64, while Antonov, Sokolov and Sergey Karasev (202-SG-93, agency: Stanislav Ryzhov) scored for 75:67 with 5 minutes to go. Sergey Karasev gave Russia 77:70 lead as he made two free throws and then Savrasenko brought 89:75. Sergey Karasev stepped up with 25 points and Antonov nailed 14. Ponkrashov produced 13, whilst Savrasenko had 12. Savas nailed 18 points in the losing effort, whilst Gonlum had 17. Ilyasova poured in 13, whilst Arslan had 12.
Greece – Finland 77-86
Finland continued their impressive run at the 2013 EuroBasket. They upset Greece today to clinch the second position in Group D. Greece finished third at 3-2 record. Petteri Koponen (194-PG-88) unleashed 29 points to pace the winners. Finland opened the game with four straight points. Greece quickly denied the deficit and spurred ahead for a 16:10 lead. But Finland did not allow the Hellenes to clear off. They cut the distance to a single point 22:23 at the first break. Bramos and Perperoglou made it 28:22 for Greece early in the second term. But Finland stuck around. They narrowed the gap and then Gerald Lee gave Finland a 36:35 halftime lead. Petteri Koponen took the floor in the third term. The guard nailed 13 points and allowed Finland to enjoy a 57:47 lead heading into the fourth period. Greece cut the distance to 7 points on several occasions throughout the fourth period. But Huff and Kimmo Muurinen (202-F-81, college: UALR) stepped up for Finland in the dying minutes and helped them to the victory. Kimmo Muurinen finished with 15 points, while Tuukka Kotti added 14 points for the winners. Nikolaos Zisis answered with 19 points for Greece. Vassilis Spanoulis (193-G-82, agency: Beo Basket) chipped in 17 points in the defeat.
Italy – Sweden 82-79
Italy maintain perfect record at 2013 EuroBasket. They held off Sweden to enter the second stage of the tournament with no defeats. Alessandro Gentile (198-G/F-92) scored 19 points to pace the Azzurri to the fifth straight win in Slovenia. Sweden fell at 1-4 record after the loss. Pietro Aradori (195-SG-88) and Andrea Cinciarini (190-PG-86) (190-PG-86) ensured a 5:0 start for Italy. The Azzurri maintained the lead throughout the first period. Melli made it 25:17 lead late in the quarter. Gentille capped it with a layup to make 27:20 for the Azzurri. But Sweden recovered well in the second term. The Scandinavian team capped the first half on a 14:0 run to take a 48:43 halftime lead. Jeffery Taylor scored 7 points to keep Sweden in front for the majority of the third term. But Italy crowned the quarter with 7 points in a row to level things up at 63. Alessandro Gentile opened the fourth period with a triple to put Italy in front. Melli and Alessandro Gentile followed to make it 70:63. But Sweden refused to give up. They would get within one on several occasions. Jeffery Taylor sank two free throws to cut the distance to two points 79:77 with 68 seconds to go. However Pietro Aradori drilled three free throws in the dying seconds and Italy escaped with a narrow victory at the end. Pietro Aradori finished with 16 points, while Andrea Cinciarini added 12 points in the victory. Jeffery Taylor led all scorers with 28 points. Jonas Jerebko had 21 points and 8 boards in the loss.
Next Day Schedule
Day 6 (Second Stage)
Group E
Lithuania Sep. 11 France
Latvia Sep. 11 Ukraine
Belgium Sep. 11 Serbia
Group F
Greece Sep. 12 Spain
Slovenia Sep. 12 Italy
Finland Sep. 12 Croatia
Source: Eurobasket.com