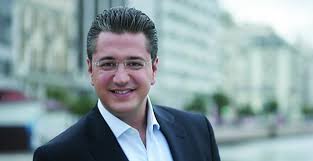 By Spiros Sideris – Athens
Prefect of the Region of Central Macedonia Apostolos Tzitzikostas has implicitly called for Antonis Samaras to resign from the premiership, to facilitate the election of the President of the Republic, proposing a national unity government with a figure who will be accepted by all, assuming the role of the Prime Minister.
Speaking on the Alpha 989 on political developments, he made it known that there has been no communication with the prime minister, not even on the day of his election, saying that the Samaras has obviously more serious things to do and stressed that he says that literally.
Instead, he said, he has daily contact with large and small members of ND.
Tzitzikostas also left peaks against the leadership of the ND, on the occasion of the anniversary celebrations for the 40 years since the founding of the party, saying that "today the ND has lost its way and its orientation" and argued that it has deviated from the principles of Konstantinos Karamanlis.
He attributed his absence from the events of the party in its capacity as Prefect. "I have put the party identity in the drawer", he said.
Tzitzikostas had run as an independent candidate in the last regional elections, beating the official candidate of the New Democracy.