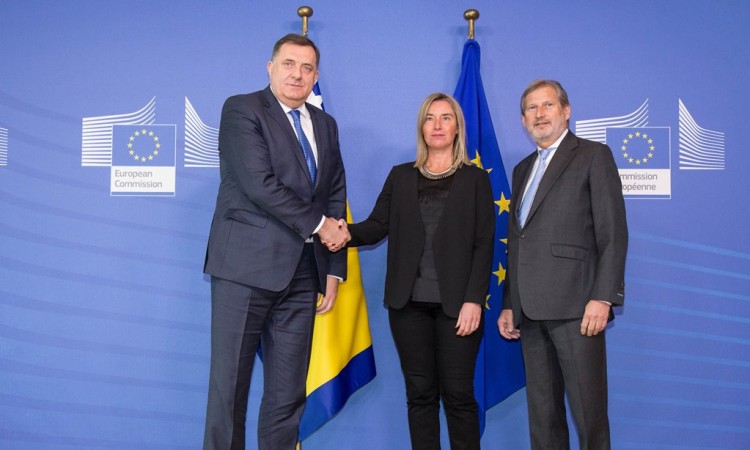 Predsjedavajući Predsjedništva BiH, Milorad Dodik, izjavio je u ponedjeljak u Briselu da je sretan što ima priliku predati odgovore na pitanja iz upitnika Evropske komisije komesaru za politika prema susjedima i proširenju, Johanesu Hanu.
Dodik je istakao da su svi u Bosni i Hercegovini predani postizanju statusa kadnidata i konačnom članstvu u EU. Na zajedničkoj konferenciji za novinare sa Hanom, Dodik je istakao da je dostavljanje odgovora na naknadna pitanja približilo BiH evropskim integracijama.
"Svi politički faktori u BiH, bez obzira na entitet ili naciju, su opredijeljeni da podrže evropske integracije i da se približe EU," rekao je predsjedavajući Predsjedništva BiH.
Dodik je naveo da je specifičan sistem odlučivanja u BiH usporio određene aktivnosti, zbog čega je uspostavljen mehanizam koordinacije. Ovaj mehanizam je pomogao BiH institucijama da odgovore na pitanja iz Upitnika, čime je ponovo potvrđena njegova važnost.
"Mehanizam koordinacije, koji smo definisali u saradnji sa Evropskom komisijom, pružio je najbolji model za harmonizaciju na različitim nivoima vlasti, u skladu sa nadležnostima. Odgovori su se mogli uskladiti isključivo kroz mehanizam koordinacije i drago mi je što smo to uspjeli," rekao je Dodik.
Dodao je da postoje neka pitanja na koja nije odgovoreno, ali da će se i taj posao nastaviti.
"Radićemo na određenim pojašnjenjima i vjerujemo da će sadašnja Evropska komisija  tokom svog mandata dati mišljenje koje će nam pomoći da dobijemo status kandidata," rekao je Dodik,
izrazivši uvjerenje da bi, zajedničkim naporima sa Evropskom komisijom, BiH dobila status kandidata, što bi joj dalo novu dinamiku i šansu za daljnje poboljšanje efikasnosti sistema.
"To znači da moramo početi raditi već sutra na svim reformama koje su odložene. Moramo reformu javne uprave staviti na dnevni red. Reforma nije činjenica da je odlazeće Vijeće ministara angažovalo 450 ljudi. Moramo dobiti jeftinu, efikasnu evropsku strukturu javne uprave u BiH, jer je to jedini način da dođemo do rješenja koja će nas približiti EU," naglasio je Dodik.
Dodik, koji se ranije susreo s potpredsjednikom Evropske komisije i visokim predstavnikom za vanjske poslove i bezbjednosnu politiku, Federikom Mogerini, i komesarom Hanom, rekao je da je sastanak bio vrlo srdačan, uprkos primjedbama da su odgovori trebali stići ranije.
"Zahvalan sam ljudima iz Evropske komisije za razumijevanje specifičnosti odlučivanja i strukturu u BiH i zato mi je drago da smo danas ovdje po ovom pitanju," rekao je Dodik.
Evropska komisija je dostavila naknadna pitanja u BiH u junu prošle godine, a 106 su se odnosile na političke kriterije, 43 na oblast socijalne politike i zapošljavanja, 38 na transportne politike, 36 na oblasti pravde, slobode i bezbjed osti, a 33 na ekonomske kriterijime.
Svrha naknadnih pitanja je da se razjasniti ono što je dostavljeno u odgovorima BiH na Upitnik EK, kao i traženje nedostajuće i ažurne informacije.
Paradoks je da je Milorad Dodik, koji često kaže da Bosna i Hercegovina nije njegova domovina i da su Srbi gurnuti u zajedničku državu sa Bošnjacima i Hrvatima silom Dejtonskog mirovnog sporazuma, danas predao odgovore u ime države koju ne osjeća kao svoju. Dodik ima i srpsko državljanstvo i smatra Srbiju za otadžbinu svih Srba.