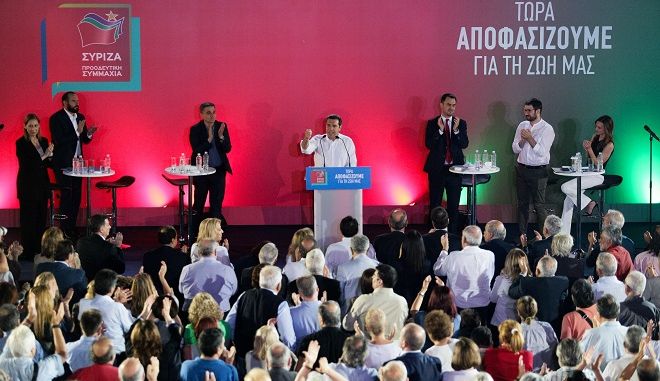 Prime Minister Alexis Tsipras visited the President of the Hellenic Republic, Prokopis Pavlopoulos on Monday to formally request an early general election on Sunday 7 July.
Following the Prime Minister's request, parliament is to be dissolved as the pre-election period in the country officially commences.
Listing the reasons he has decided to call an early election, the PM told the President that following the European election certain conditions emerged that could have led to a prolonged pre-election climate, which could potentially derail the economic recovery.
As Alexis Tsipras stressed, he felt it was his duty as Prime Minister not to let the sacrifices of the Greek people go to waste now that the economy has entered a virtuous cycle. President Pavlopoulos accepted the PM's request.
Later on Monday Tsipras was quick to officially launch the SYRIZA party's campaign by presenting the party's manifesto at the Athens Concert Hall. Attended by the party's supporters, officials and cabinet ministers, the premier told the meeting that he had a "realistic plan" for the economy, after managing to successfully conclude the bailout program.
"Greece is no longer a bankrupt country. We now have the opportunity to present to you our plan for the future Greece, not just for the few and the elite […] we deserve a chance to govern for the first time without our hands tied, without memorandums, without supervision […] we are now deciding for our future" he told party members at Athens Concert Hall.
The PM said he understood the Greek people were exhausted by the austerity and bailout program policies implemented over the last decade, but called on them to remember where Greece was four years ago, while urging voters to contemplate if bringing SYRIZA to power was worth the effort, so that nobody was left without help during the crisis. Issuing a call to young voters especially, Tsipras said that they should "claim and demand" a better Greece.
Tsipras went on to promise a more expansive economic policy in the next four years, if he is re-elected to office. Among other pledges, the SYRIZA chief said he would seek to generate as many as 500,000 new jobs and appoint staff in the education and health sectors. Moreover, he said the minimum wage would be increased further in years to come. He also said that SYRIZA is determined to modernise the state and public administration by digitizing all services in the public sector./ibna