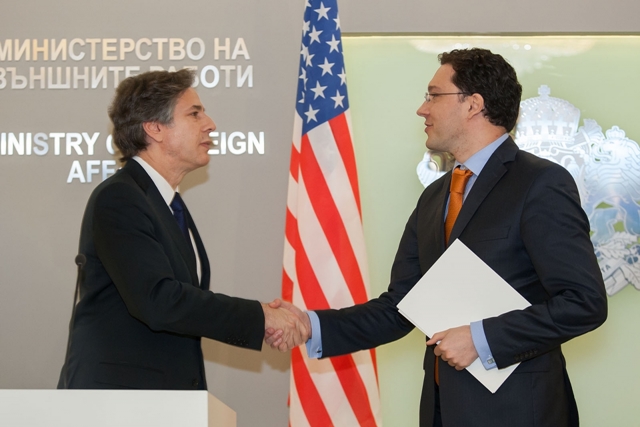 Sofia, May 7, 2016/ Independent Balkan News Agency
By Clive Leviev Sawyer of The Sofia Globe
Visiting Sofia, United States Deputy Secretary of State Antony Blinken has praised what he described as the successful efforts that Bulgaria has been making in the fight against corruption, particularly in the area of smuggling.
"This is an extraordinary achievement, and I think there are many lessons that Bulgaria has taken that would be well shared with many other countries," Blinken said after talks with Bulgarian Prime Minister Boiko Borissov.
Blinken said that his visit underscored the strong commitment of the US to deepening and expanding its ties with Bulgaria, "and our appreciation for Bulgaria's leadership in fostering greater freedom, prosperity, and opportunity in the region and in the world today".
Turning to Borissov, Blinken said, "Mr Prime Minister, we welcome your efforts and your leadership to achieve this vision, especially through the extensive work that's been done on energy, on defense, on security, and on the rule of law".
Referring to the Nato Summit to be held in Warsaw on July 8 and 9, Blinken said that talks with Borissov had covered the joint work being done by the two countries in Nato, planning for the summit, and Bulgaria's own military modernisation efforts, which the US fully supported.
"These modernisation plans, as they're implemented, will strengthen Bulgaria's security and the overall Alliance. Our co-operation in this regard has never been stronger, and we're grateful in particular for the Prime Minister's leadership in getting us to this point," Blinken said.
According to Blinked, Bulgaria was also "shaping an economy that is welcoming to both domestic and foreign investors".
"Enabling businesses to operate with confidence is a prerequisite to increased employment and inclusive growth. We strongly support these efforts as well," he said.
Energy security is national security, "and we applaud the Prime Minister's work to diversify Bulgaria's energy sector, including by making important progress on the interconnector projects, like those with Greece and also Romania," Blinken said.
He said that he and Borissov had discussed briefly the migrant crisis.
Blinken described this as "the challenge posed by the great wave of displaced peoples, the largest since World War II,  that's affected the political, the economic, and the social fabric of everyday life in Europe, and challenged to us to live up to our common humanity—to provide the same sanctuary that some of our own ancestors sought in times of trouble, even as we recognize the imperative of security, the complexity of integration, and the burden on host communities".
Blinken held talks with President Rossen Plevneliev, Defence Minister Nikolai Nenchev and Foreign Minister Daniel Mitov.
Plevneliev said that strategic partnership between Bulgaria and the United States was the basis for more active joint steps for coping with the common security challenges. He said that amid numerous crises in Bulgaria's neighbouring regions, the country remaind a predictable, reliable ally, and is a key factor of stability in South Eastern Europe.
The Bulgarian institutions will continue working towards the implementation of the nine projects for modernisation of the armed forces. The acquisition of a new type of combat aircraft is the top priority, Plevneliev said, calling on Nato for active support for this process.