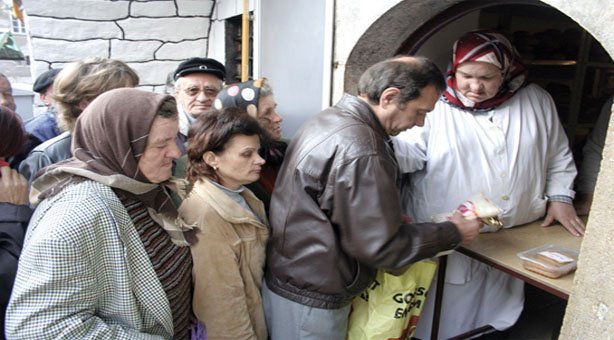 By Medina Malagić – Sarajevo
Ever since the end of the conflict in B&H in 1995, the country has been in a protracted economic crisis where poverty levels remain in the double digits and the gap between rich and poor is increasing. For many families in B&H who have no other long-term alternatives open to them that would alleviate poverty and improve their lives, they have to live every day with overwhelming concern over how they will make it through the day and provide the bare necessities for their families.
According to statistics from the World Bank, more than one and a half million inhabitants of B&H live on the edge of existence, and that every fifth citizen in B&H is able to spend only three marks on a daily basis.
Public Kitchens in B&H fill the role of assisting people by providing thousands of warm meals a day. Two examples are the public kitchens in Tuzla and Sarajevo, which prepare thousands of meals every day.
The Public Kitchen in the Old Town Municipality in Sarajevo has over 1200 people that it services, and around 30 new people in one month were received. With the Islamic holiday of Eid coming up next week, preparations are already underway and the kitchen will be open during the holiday in order to provide its citizens with meals.
Zilha Šeta, or otherwise known as Aunt Zilha, is probably one of the most well-known cooks in a public kitchen in B&H. She is the head cook at the Public Kitchen in Sarajevo. She has received numerous awards for her humanitarian work and dedication to her job, at which she has been employed since 1992. She even works in the Public Kitchen during all religious holidays.
The Public Kitchen Imaret in Tuzla said that the situation is very complex, and a large number of citizens request help, and the Public Kitchen is doing all it can to help everyone.
Public Kitchen Tuzla prepares around 3400 meals every day. Since the beginning of the year until today, around 650,000 meals have been prepared. The government does what it can, and municipality Tuzla every month pays 17,000 KM, and municipality Tuzla this month paid 100,000 KM.
For those who are sick and disabled, the food is delivered to their home address.