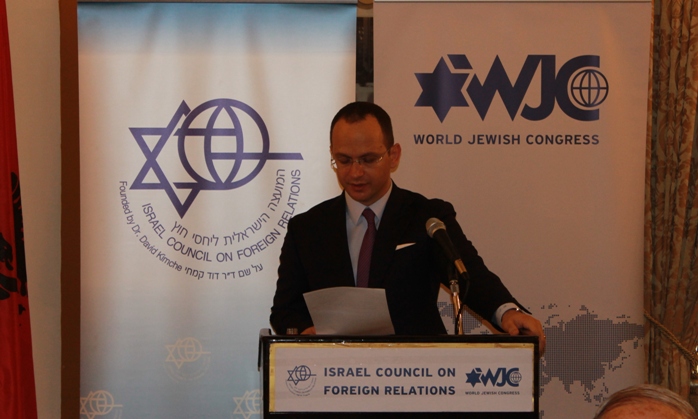 Tirana, June 23, 2014/Independent Balkan News Agency
Albanian authorities say that the potential of bilateral relations with Israel remains unexploited, although relations between the two countries have been considered as excellent in the last two decades.
In an effort to boost development of relations with Israel, Albanian Foreign Minister, Ditmir Bushati is in Tel Aviv for an official visit (photo).
Bushati says that the close historical relations that join the Albanian people with the Hebrew people culminated with the collective rescuing that they did to Hebrews in Albania during the Second World War. He said that this is a testimony of not only what Albanians were capable of doing, but also a testimony of the values that continue to be cultivated in Europe.
In this point, Bushati identifies the role of Albania as a stability factor in the Balkan region.
In the meetings held with representatives of the Chamber of Commerce of Israel and other groups of Israeli business, which operate in our country, minister Bushati said that the volume of commercial exchanges between the two countries must be boosted.
He said that there's still a lot to do as far as collaboration is concerned. "The potential of bilateral relations between Albania and Israel has not yet been entirely exploited, especially that potential relating to domains identified by both sides as domains of a strategic character: energy, agriculture, infrastructure and telecommunication".
Bushati said that cooperation between Albanian companies with Israeli companies in the domain of high technology is of a special importance for the Albanian economy in terms of benefiting experience to boost the dynamic of efficiency of doing business. /ibna/