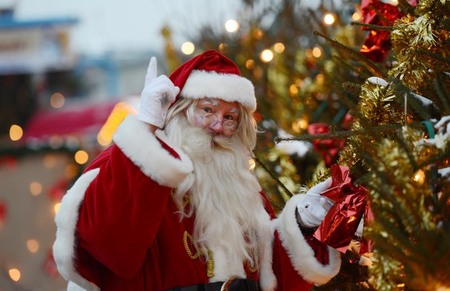 By Medina Malagić – Sarajevo
"New Year and Santa Claus are Christian Holidays!" was to be seen on posters that were seen on the streets of one Sarajevo neighborhood called Hrasno for the last few days and were believed to be have been put up by individual citizens, but these posters have since been taken down on the initiative of Sarajevo citizens.
The putting up of these posters came at a time when the decision was adopted to declare 25 December, Christmas Day, as a day where all schools in Canton Sarajevo would be closed. This was a proposal approved by the former Canton Sarajevo Minister of Education, Science and Youth in July of this year. For the first time in several decades, schools in Canton Sarajevo were closed on Christmas Day.
While the decision to declare 25 December as a day off from school might seem innocuous and even logical, in B&H such a decision is still highly politicized and a sensitive one, which is replete with the clashing of ideologies and competing power structures.
The Islamic Community of B&H was quick to issue a press release in response to the decision to declare schools to be closed for Christmas, in which it expressed concern over the 'disturbing behavior of some educators relating to the marking of Christmas holidays in schools".
Their concern centers around the assertion that some teachers have been asking Bosniak students to prepare Christmas recitals and other plays, that are religious in nature, referring to the Catholic religion, and that this is even done in schools where there are barely any Catholic students. According to the Islamic Community, this type of behavior does not contribute to multiculturalism, since it violates freedom of religion.
This is not the first time that contention has arisen regarding symbols that have been come to be seen as religious. In 2009, Santa Claus was seen as a persona non grata in Sarajevo and there were attempts to ban Santa Claus from schools based on the claim that it is not a part of Bosniak tradition. A few years later, and this seemingly innocuous issue still causes heated debates in B&H.
Even though the posters were put up by unidentified citizens, the connotations are vast and bring to the surface even more the problems that have plagued B&H society for nearly 20 years, since the end of the conflict in this country in 1995. For many citizens of B&H, Santa Claus is not seen as a religious or ethnic symbol, but rather a figure that was featured prominently during Socialist Yugoslavia during the holiday period, as a figure that brings joy and presents to children.
However, in this post-conflict society that is still in a phase of transition, the contradictions come to the surface regarding the the country's aspirations to join the EU and the ongoing rhetoric from the top on the ethnic polarization in the country, which has a direct impact on the education system in B&H. From the decision to introduce religion in schools, to the criticism over the closing of schools on Christmas Day in Canton Sarajevo, these are clear examples of one of the many ways in which the education system, especially education of young children, is not immune from the polarization of B&H society post-1995.