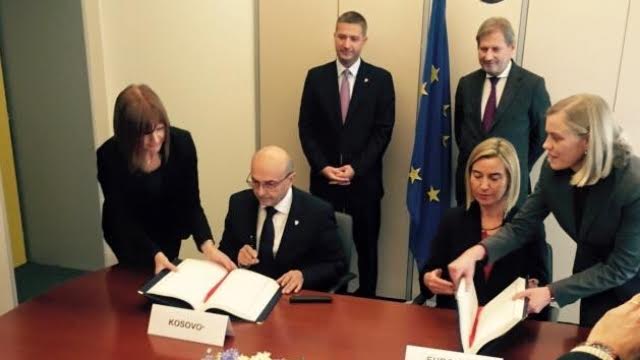 Pristina, 3 November 2015/Independent Balkan News Agency
By Elton Tota
For the first time in history, Kosovo and the European Union have established contractual relations. This was enabled through the signing of the Stabilization and Association agreement several days ago by PM Isa Mustafa and the EU head of diplomacy, Federica Mogherini.
EU representatives and experts of EU affairs told IBNA that the document in question has its positive, but also negative sides for Kosovo.
The head of the EU office to Pristina, Samuel Zbogar says that SAA brings new obligations for the country, especially in the legal framework.
"SAA will help in attracting more national and international investments, because Kosovo will guarantee a favorable business climate and this will help to create more jobs. The agreement also guarantees better quality products and increases competition between producers, which then has an impact in price cuts. But another important element is that Kosovo must do more about the application of law and the strengthening of the justice system", Zbogar said.
Commissioner Johannes Hahn mentions some of the main benefits that Kosovo has from this agreement.
"The agreement between Kosovo and the EU will bring reforms, it will bring more investments and trade, it will help in the development of the country and will create new jobs, especially for young people", he says.
Meanwhile, professor of European Law, Muhamer Pajaziti talks about the other side of the medal, namely the negative effects of SAA if it's not handled like it should by the Kosovar side.
He says that producers in Kosovo must make efforts in order for their products to meet the highest European standards.
"SAA guarantees a free movement of goods and services, but if we want to be part of European markets, but if we want to be part of European markets, we must invest in European and international standards such as ISO, HAAC, CE, etc. These are standards that guarantee the safety and health of the European consumer", Pajaziti said.
According to him, currently, enterprises in Kosovo cannot even compete with the countries of the region, let alone the EU member countries.
According to the Stabilization and Association Agreement, EU and Kosovo will gradually establish free trade, where the free movement of goods, services and capital are guaranteed on a mutual basis.
Based on this document, some goods will be liberalized immediately. while those products which are considered to be protected, will be liberalized within a period from 5 to 7 years.
Analysts demand from the government of Kosovo to draft a strategy for the economic development of the country, in order to subsidize agricultural products, minerals and other products that will have an impact in the economic development of the country. /ibna/