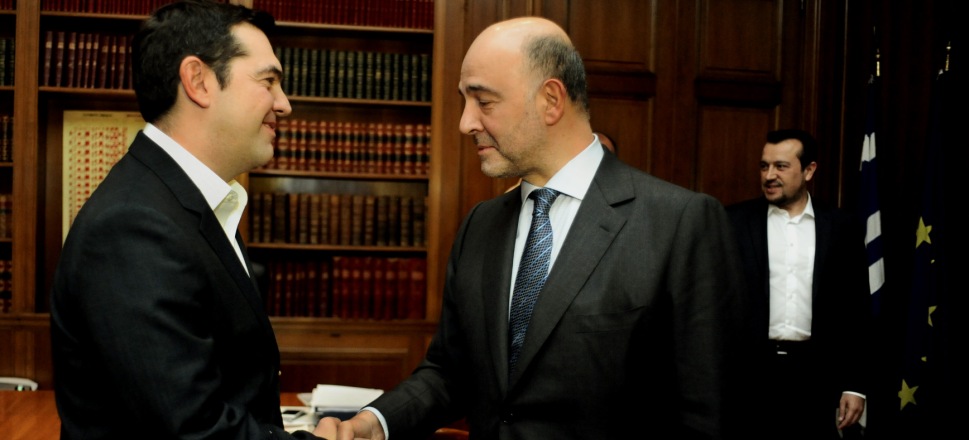 During his visit to Athens, Pierre Moscovici underlined the "significant performance" of the Greek economy, pointing out that Greece should not deviate from its goals due to the pre-election period. The Commissioner for Economic and Financial Affairs, found in Greece a day after the commission's report on the Greek economy, had a meeting with Al. Tsipra and then delivered a speech at the joint meeting of the Defense, Foreign and Economic Affairs Committees.
Moscovici: There is no "disguised memorandum"
In the context of the European Commissioner's meeting with the Prime Minister of Greece, he noted that the European Commission's report shows that Greece's reforms are excellent and that there is no "disguised" memorandum. "Greece is in a process of surveillance, like other countries," said P. Moskovici, something that is an indirect response to the criticism of the opposition, and in particular to the New Democracy, which, following the publication of the Commission's report, noted that the Greece applies an "informal fourth memorandum".
Al. Tsipras and P. Moskovici expressed their optimism that the Eurogroup on March 11th will approve the disbursement of 1 billion euros, which, as P. Moskovici pointed out, give a sign to the markets that Greece is credible and on the right track. It was also pointed out that this instalment concerns the profits from Greek bonds, from ANFAs and SMPs, and not a rescue plan.
ND: Greeks' sacrifices have no results
In the presence of P. Moskovici, the vice-chairman of the New Democracy, K. Hatzidakis, expressed the opinion that Greeks' sacrifices have no results, accusing Al. Tsipras that insists on overtaxation and discredits the necessary changes and reforms ".
European Commission is concerning about "Red loans" and lignite plants
P. Moskovici, of course, pointed out the "inequalities" and the pending issues that concern the Commission regarding the "red loans", the first home protection and the disposal of the lignite plants.
According to information, government and banks have come up with a new scheme to protect the first home yesterday, with the draft law going to be voted in parliament. Then, as government officials say, it will be followed by a process for a comprehensive review of the frameworks for regulating private debts.
The European Commissioner has pointed out that the criteria must relate to those who really need it and not the strategic bad payers, and that concerning the lignite plants, Greek authorities are those which have the will to go ahead with the competition. It should be noted that the previous phase was declared insignificant and, according to information, the announcement of a new tender is expected soon, with binding bids likely to be submitted in April.