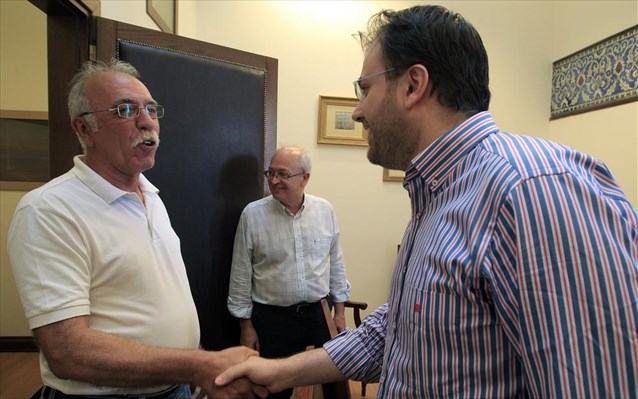 By Spiros Sideris – Athens
A meeting took place at the offices of the "Democratic Left" (DIMAR) in Parliament between delegations of DIMAR and SYRIZA, after the exchange of letters between the president of the DIMAR Fotis Kouvelis and the president of SYRIZA Alexis Tsipras.
On behalf of DIMAR, the meeting attended: Thanassis Theocharopoulos, secretary of the Central Committee, Dimitris Anagnostakis, secretary of the Parliamentary Group and Stephen Manikas, Coordinating member of the Progressive Cooperation.
SYRIZA was represented by Dimitris Vitsas, secretary of the Central Political Committee of SYRIZA, Costas Poulakis, member of the Political Secretariat of SYRIZA and Christos Staikos, member of the Central Political Committee of SYRIZA.
After the meeting, the secretary of the CC of DIMAR, Thanasis Theocharopoulos stated: "Today, we had a constructive discussion and there was dialogue on the basis of the letters of the president of DIMAR Fotis Kouvelis with the twelve programmatic points, and the president of SYRIZA Alexis Tsipras on the nine points he has raised.
There were points on which there was an agreement and others that need more processing. The Democratic Left will continue the dialogue on the center-left and the progressive governance of the country. There were no prerequisites for initiating dialogue.
From our side we stressed our positions, including our non-negotiable position on the European Union and our stay within the eurozone. In any case, we will notify the relevant bodies of our party and there will be discussions with the aim to have a new meeting in the foreseeable future".