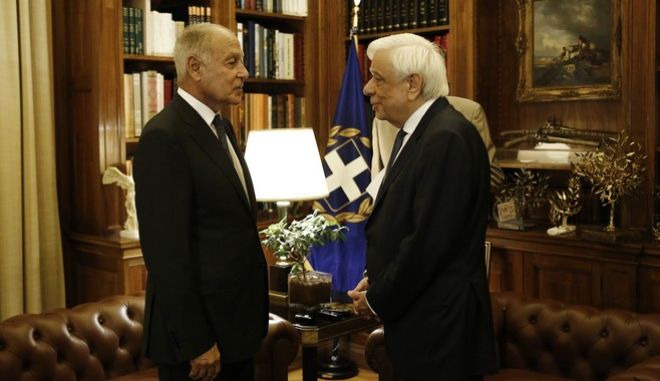 According to reports in the Arab press, the visit of the Secretary General of the Arab League Ahmed Aboul-Gheit to Greece during the 4th Euro-Arab Summit in Athens had a positive outcome.
Gheit held meetings with the President of the Hellenic Republic Prokopis Pavlopoulos, Prime Minister Kyriakos Mitsotakis and Foreign Minister Nikos Dendias.
In a meeting with Prokopis Pavlopoulos, the Secretary General of the Arab League expressed his appreciation for the positive and supportive Greek positions on issues of Arab interest, both internationally as well as through Greece's actions as a member of the European Union, especially when it came to supporting the legitimate rights of the Palestinian people. He pointed out that the Arab world looks forward to Greece keeping up with this positive role.
Speaking about Abul-Gheit's meeting with the Greek Prime Minister, the press reports that issues of common interest and ways to boost relations between Greece and the Arab countries in the coming political, economic and cultural spheres were discussed. According to reports, Kyriakos Mitsotakis was interested in knowing the Secretary-General's views on the latest developments in Syria, Libya and Palestine.
In the meeting between the Greek Foreign Minister Nikos Dendias and the Secretary-General of the Arab League, the two sides underlined the importance of striving to strengthen Greek-Arab cooperation, of coordinating positions in regional and international forums, as well as the importance of discussions regarding all challenges both sides face.
The Secretary-General underlined the salience the Palestinian side attaches to the issue of recognizing the independent Palestinian state according to the borders of 4 June 1967, with its capital in East Jerusalem, praising the Greek Parliament's resolution for full recognition of the State of Palestine in 2015./ibna