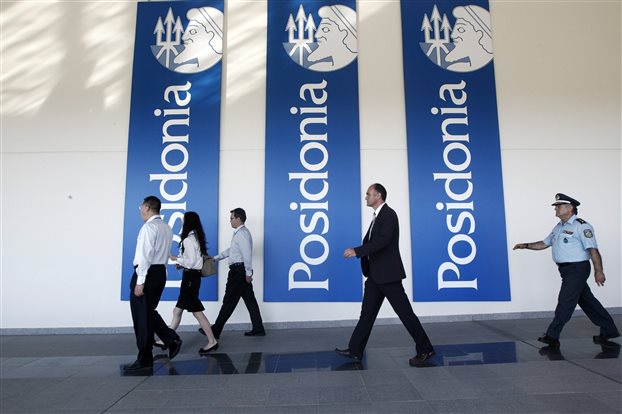 By Lefteris Yallouros – Athens
The Posidonia Exhibition, the world's most prestigious maritime event starts in Athens, Greece on Monday and will run through to June 6th.
Posidonia 2014 is set to be officially be opened by Greek Prime Minister, Antonis Samaras 2 June at the Athens Metropolitan Expo.
According to the organizers, Posidonia 2014 will be the biggest in its long history, with 1800 exhibitors from 93 countries. About 19,000 members of the global shipping community are expected to come to Athens & Piraeus to meet, assess and discuss the way ahead for the maritime industry.
As Theodore E. Veniamis, president, Union of Greek Shipowners, said: "Posidonia provides an opportunity to highlight the dynamics of the international shipping industry and the continuing leadership of Greek shipping. (…) As Greece is in the process of ending the most testing period in its modern history, economically and socially, Greek shipping could become a key driver of economic recovery at national level as well as in the context of global prosperity and welfare."
Greek shipping is the worldwide leader representing 16.16% of the global fleet in dwt and 46.72% of the European fleet in gt while Greeks spent USD 13 billion on new ships in 2013 alone. Shipping accounts for 7 percent of Greece's GDP, while providing employment to 192,000 people. Government officials, industry analysts, bankers, financiers, shipowners and delegates will come together to debate emerging trends and provide insights into the industry's future.
Posidonia organizers paid particular attention to China in the most recent press release on the exhibition. The biggest national participation belongs to China, followed by Korea and Japan while this year Hong Kong is making a long-awaited comeback after a ten-year absence, the organizers revealed.
Meanwhile, Chinese Prime Minister Li Keqiang will visit Athens accompanied by Chinese Foreign Minister Wang Yi and a large governmental delegation, on June 19. Chinese government officials already arrived in Athens ten days ago in preparation of the Chinese PMs visit but also to cater for the visit of Chinese company officials to Athens for the Posidonia exhibition.
Improving maritime cooperation will be an issue high on the agenda of talks between Li Keqiand and Greek premier Antonis Samaras. The two sides will sign a memorandum on the issue.
Chinese investors are interested in the Athens International Airport according to reports. Furthermore, Chinese giant COSCO intends to move for the Piraeus Port Authority shares to be privatized by the Greek state asset management fund.