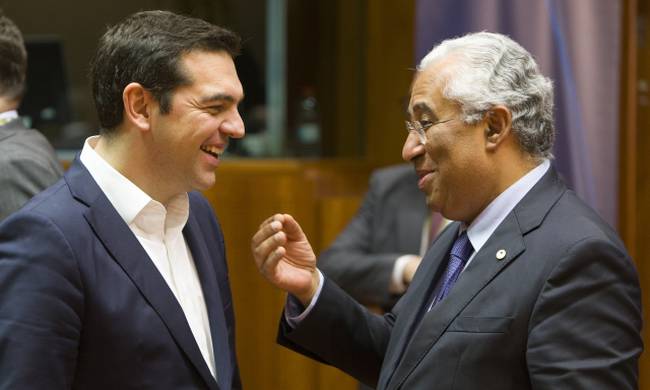 Athens, April 11, 2016/Independent Balkan News Agency
By Spiros Sideris
Portuguese Prime Minister Antonio Costa arrived in Athens on Sunday evening for an official visit as IBNA had reported first .
The Portuguese socialist prime minister, elected with a program against austerity, arrives in Athens at a critical juncture, when the completion of the first assessment is a top priority of the Greek government, and is expected to express his support to the Government and Alexis Prime Minister Tsipras .
The two prime ministers, according to information will sign a joint declaration on the future of Europe and the strengthening of cooperation between the two countries. Also on the sidelines of the visit of Mr. Costa, there will be a meeting of the Portuguese Foreign minister, Augusto Santos Silva, with the Greek Foreign minister Nikos Kotzias at 10am. Also the Portuguese Foreign minister will meet with the Deputy Minister of Immigration Policy, Yannis Mouzalas.
Since November 2015 Mr. Costa has been leading the progressive socialist coalition government, with support from the Left Bloc and the Portuguese Communist Party and was elected to implement a program against the austerity policy.
Therefore, he is considered one of the allies of the Greek government in the EU, both in terms of economic policy and his opposition to austerity and the promotion of a European solution for managing the refugee crisis and ensuring peace and stability in the Mediterranean.
It is noted that the intention of the Costa Government to put an end to the extreme austerity policy, with the budget approval and decisions that withdraw austerity measures of the previous years, caused controversy with the European Commission, since the latter initially voiced strong objections. Finally, the termination austerity budget was approved with objection of Brussels.
Furthermore, in relation to the refugee issue, in a letter to the Greek Prime Minister and to all the leaders of EU member states at the February summit, Antonio Costa had expressed the readiness of Portugal to accommodate up to 6,000 refugees from Greece, in addition to those it agreed to accommodate based on the quotas.