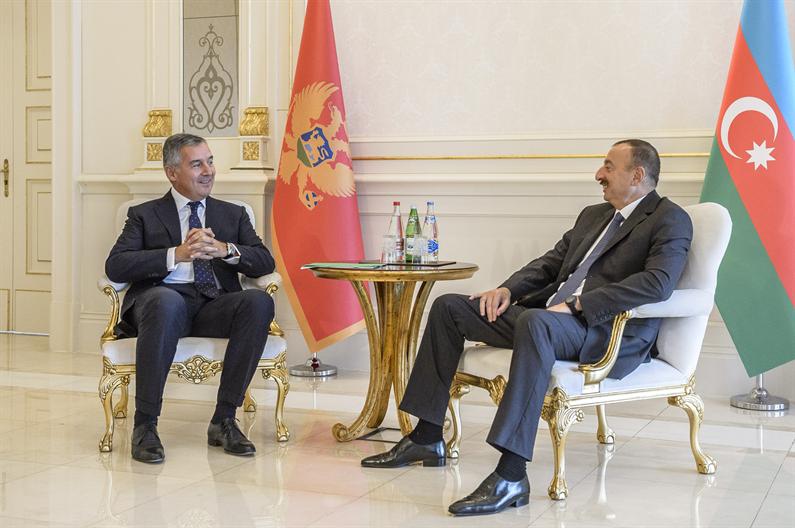 By Adnan Prekic – Podgorica
During his official visit to Azerbaijan, Prime Minister of Montenegro, Milo Đukanović met with Azerbaijan  president Ilham Aliyev. The head of state expressed his satisfaction with the fact that bilateral friendly relations between Azerbaijan and Montenegro cover a variety of fields and are rapidly developing. The parties stressed that there is good potential for the development of ties in various spheres, including energy, infrastructure, banking sector, tourism and education. The Portonovi project in Kumbor, which is worth 500 million euros, is indicative of the good cooperation established between the two countries.
The meeting underlined good partnership and friendly relations between the two states, based on dynamic and open political dialogue, and successful economic cooperation. In that regard, Prime Minister  Đukanović thanked President Aliyev for the continued support of Azerbaijan to Montenegro, as a significant impulse for further economic development of the country. DIscussions also revolved around the cooperation in the banking sector and energy, particularly the construction of the Southern Gas Corridor.
Montenegro and Azerbaijan have developed good bilateral relations in every field and have achieved notable cooperation results, Đukanović highlighted. The Portonovi project in Kumbor is proof of the good cooperation established between the two countries, having in mind that this project is one of the biggest Azerbaijani investments in the Montenegrin tourism. The company Azmont backed by the Azerbaijan state oil company SOKAR began the construction of the project 'PORTONOVI', which is worth 500 million euros.
The ground works on the project 'PORTONOVI' begins in February, while the deadline for completion of the tourist complex is may 2016. In the former military barracks, in one of the most beautiful parts of the Bay of Kotor, will be the location that the tourist resort "One & Only" will be built. The plan envisages the construction of 550 residential villas, 150 commercial space and 1,200 parking places, markets, sports and spa complexes.
The project, funded by the Azerbaijan state oil company SOCAR, aims at the construction of the most modern  marinas with a capacity of 250 berths, with a focus on mega-yachts, about 70 shops, cafes restaurants, yacht and a beach club and tennis academy. The content will be attractive throughout the year, and 65% of the complex's capacity will be available to citizens.
The tourist complex in Kumbor will be built by the company "Kerzer" from the Bahamas, which has signed a contract with Triangle Investment in England, who are the agents of the Azerbaijani oil company SOCAR. The owners from Azerbaijan announced that after the opening of "PORTONOVI", 1,200 persons will find employment in the complex.