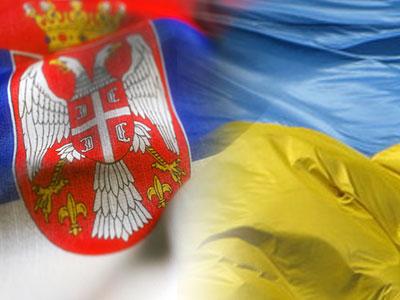 Belgrade, April 14, 2015/ Independent Balkan News Agency
By Milos Mitrovic
Ukraine and Serbia support each other considering their respective territorial integrity, Ukraine President Petro Poroshenko declared after his phone conversation with Serbian Prime Minister Aleksandar Vucic on Monday.
Poroshenko informed his Serbian interlocutor on fresh developments in the region of Donyetsk, Ukrainian news agency Ukrinform reported. Ukrainian President expressed his hope that Serbia, as current OSCE presiding country, would "use all the possibilities in order for the two sides (in conflict) to fully implement Minsk agreement which defines the ceasefire, Tanjug news agency reported.
According to Tanjug, Poroshenko and Vucic have agreed to coordinate activities on improving the effectiveness of the OSCE monitoring mission in Ukraine; they have pointed out that more observers with improved technical equipment are needed.
Poroshenko has also appealed to Serbia to prosecute more effectively its citizens who went to fight alongside with "illegal armed formations in Donbass", obviously alluding to Serbian "volunteers" who had joined the pro-Russian forces.
In this regard, Vucic has promised to Poroshenko that Serbia would abide to its own laws considering mercenaries", Radio-Television of Serbia reported.
Ukrinform reports that Poroshenko invited top Serbian officials to visit Kiev. Serbian PM replied by inviting Ukrainian representatives to visit Belgrade.
The Government of Serbia declared that Vucic told Poroshenko that "Serbia does everything in order to objectively and indifferently help resolve all disputes and problems in the territory of Ukraine".
Serbs and Russians "not brothers any more"?
"If you are our brothers why did you let NATO in your country", Grigory Tischenko from the Russian Institute of Strategic Research (RISI) said in the interview to website New Serbian Political Thought (nspm.rs). Tischenko probably alluded to Individual Partnership Action Plan (IPAP) signed by Serbia and NATO last month. "If you had opened arms to NATO tanks and canons, than you must understand – this ends all the stories that we are brothers who love each other", Tischenko added.
"First of all, there is a need to underline that we (Russians) love Serbs and Montenegrin and we consider them our brothers; but when Montenegrin, for instance, tell us 'we love Russia, but Montenegro will join NATO', they have to understand us – if you entered NATO, allowed NATO bases in your territory with NATO aircraft and missiles, it's really difficult to say 'we are brothers'", Tischenko said.