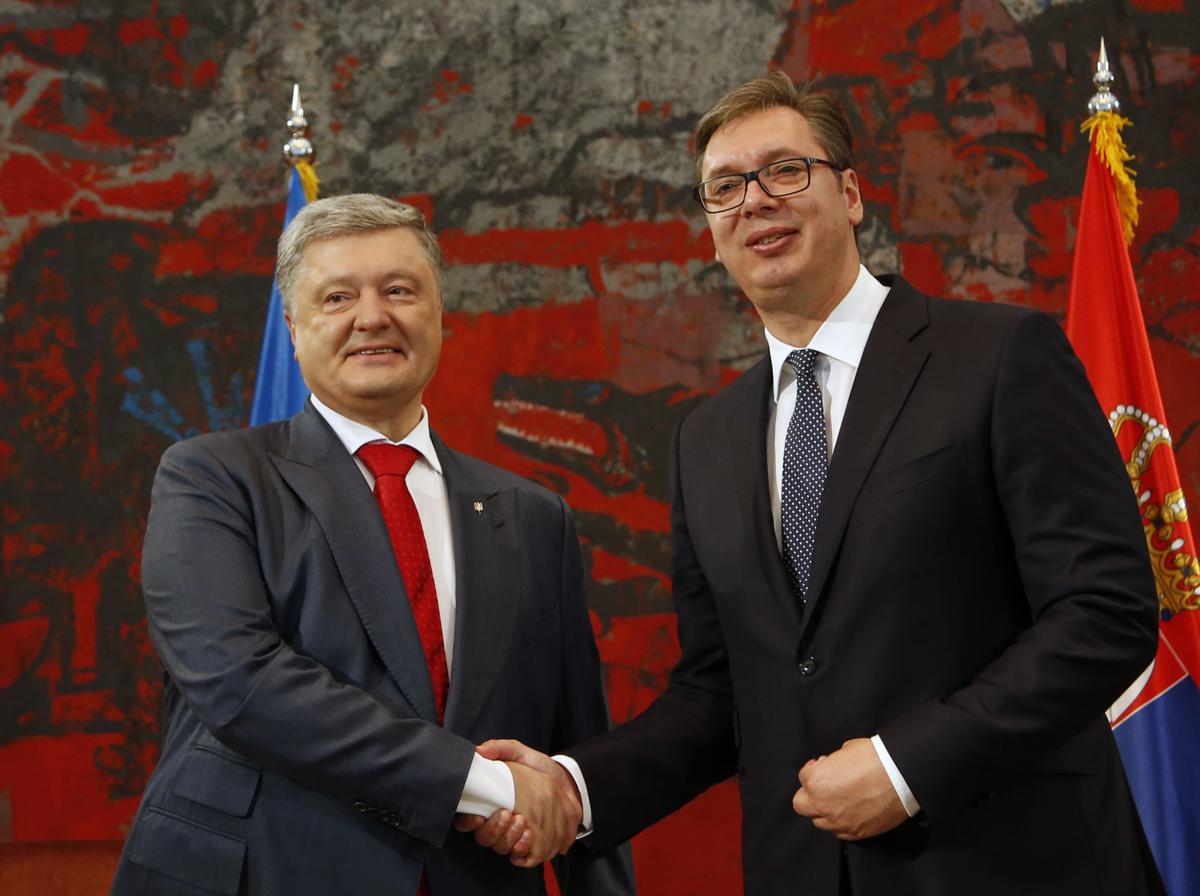 The Ukraine supports the territorial integrity of Serbia and Serbia supports the territorial integrity of Ukraine, said president Aleksandar Vucic after meeting with his Ukrainian counterpart, Petro Poroshenko today, in Belgrade. Ukraine and Serbia have no problems in their bilateral relations, Poroshenko said.
However, the involvement of some Serbian citizens in the Ukrainian conflict was the matter of dispute in recent years. In 2017 the Ukrainian Ambassador to Serbia temporarily left the embassy and went to Kiev, following his harsh accusations against Belgrade. The Serbian government also sharply criticised the Ukrainian diplomat.
Poroshenko, nonetheless, was quite positive today. "I want to say clearly that we do respect the territorial integrity of Serbia. We have not recognised Kosovo and our position is that the solution to that problem should be found through compromise, by respecting the interests of Serbia", the Ukrainian president explained.
Vucic obviously shares his guest's opinion, at least in public: "Serbia and Ukraine have not opened questions, and they consider one another as very friendly countries". He added that language similarities link the two nations.
The Serbian leader said that Poroshenko expressed his stance over the situation in Ukraine at the meeting. "Serbia hopes that all problems will be resolved peacefully, and that the Minsk Agreement will be implemented", Vucic said stressing the importance of the OSCE for the peace process.
"We, in Kiev, are making maximal efforts in order to restore the sovereignty of the country in all its territory; and we count on the Serbian support with regards to deploying a peace mission under the United Nations surveillance. I am convinced that the implementation of the Minsk Agreement has no alternatives", Poroshenko said.
Vucic said that Poroshenko "wished Serbia to find the compromise in negotiations with Albanians".
He expressed his hope that Serbia and Ukraine would sign the agreement on free trade, stressing that reaching the deal in that sense would not be easy.
Vucic also mentioned the possibility of introducing direct flights between Belgrade and Kiev.
While Poroshenko was impressed by the fact that Belgrade was decorated with Ukrainian flags during his visit, Vucic announced installing the monuments of Ukrainian authors throughout Serbia…. /
IBNA