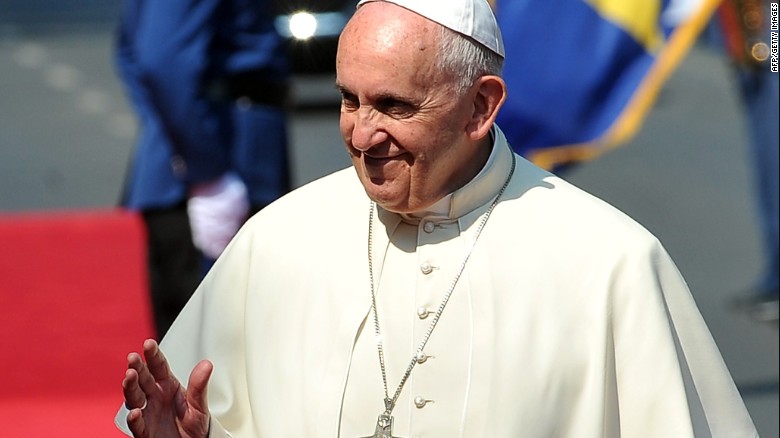 Sarajevo, June 8, 2015/ Independent Balkan News Agency
By Mladen Dragojlovic
More than 100 000 pilgrims, Sarajevo citizens, tourists and officials will forever remember Saturday, June 6, when Pope Francis paid a visit to BiH capital, Sarajevo.
As was officially announced, the visit took place without any security issues, organizational or anything else. Probably the biggest satisfaction when the Pope departed felt the security staff, because there was no incidents, given that when Pope John Paul II arrived in Sarajevo, near his route a large number of land and anti tank mines were discovered. This time, the Pope had the best possible protection, although many citizens were dissatisfied because they were banned to open their windows and lift up their shutters. But they also were warned that soldiers and police officers with sniper rifles would not stop to discriminate between a curious observer and a terrorist.
First thing out of protocol, Pope made upon arrival in Sarajevo International Airport. After an official welcome by politicians, it was predicted that Pope pass the children in national clothes of all nations in BiH. But he decided to shake the hand of everyone of the 144 children. The children were delighted with Pope gesture and some of them even sang some songs which Holy Father followed with "Bravo" and big smile. He also didn't forget to go to Airport workers which were following the ceremony out of the planned route.
Politicians who were following the Pope on his way to BiH Presidency building were shamed when he went in his Ford Focus, and they in their Audis. But, it is was typical gesture from Pope Francis to show that official cars do not have to be expensive. Just few hours after that, somebody made a joke on the internet market page, posting an advert that the Pope's Ford was for sale.
"The Ford had good maintenance in Vatican's garage and was driven a little bit through Sarajevo. Price: 3,000 BAM (1,500 Euro) without negotiations".
After official talks with members of BiH Presidency, leaders of religious groups and other invitees, the Pope sat in a "papamobile" and went to the Kosevo Stadium, where about 70,000 pilgrims were waiting the Holy Mass. On his way, out of protocol of course, the Holy Father stopped the cars and his security members brought to him a child to bless. The child's father said that he was confused when a security member came to take his son. What's interesting is that the boy was sleeping at the time and didn't wake up even when Pope blessed him.
Just upon arrival on the stadium, an incident occurred. The Pope's pastoral staff was broken and they had no replacement. As the manager of Rome bureau chief for Catholic News Agency, Alan Holdren, wrote on his Twitter profile, the problem was solved in an unusual manner.
"What to do when the Pope's pastoral staff breaks on a trip abroad? Tape it back together, of course!", Holdren wrote.
Sarajevo Mayor, Ivo Komsic, gave to Holy Father a "Key of city of Sarajevo", which represents the link of the person and the city. As Komsic later said, the Pope again broke the protocol and in a humorous way asked him is that was the key to Komsic's home.
"I told him that this is a key for gates of heaven because on it are engraved the insignia of all religions which live together in Sarajevo", Komsic explained later.
There was several other breaks of protocol because Pope Francis simply is not a man who will follow the line. On his trip, the Holy Father stopped the car several times and went to speak with ordinary people who were staying near the street to see him. Also, the Pope had a written speech, but he just partially read from it and the rest of speech was spontaneous.
In fact, the Pope impressed all in BiH and many hope that the politicians will learn something from his speeches and acts. There are, however, some citizens who are not delighted with Holy Father's visit. Not surprisingly, among them is RS President, Milorad Dodik, who said that he accept universal messages of peace and cooperation, sent by Pope in Sarajevo, but that the visit had the aim to depict Sarajevo as a multi-cultural center.
"There are more Chinese people in Sarajevo than Serbs and Croats together. They gather 70 thousand people on the stadium and then try to create a story about Sarajevo, which has toured the world. But there were no more than 100 Christians from Sarajevo in that stadium and in the whole set of 70 thousand. All the others have come from Croatia and other parts, but a message that in Sarajevo everything is rosy and wonderful", Dodik said Monday in his lecture to students on Faculty of political science in Belgrade.
photo: CNN