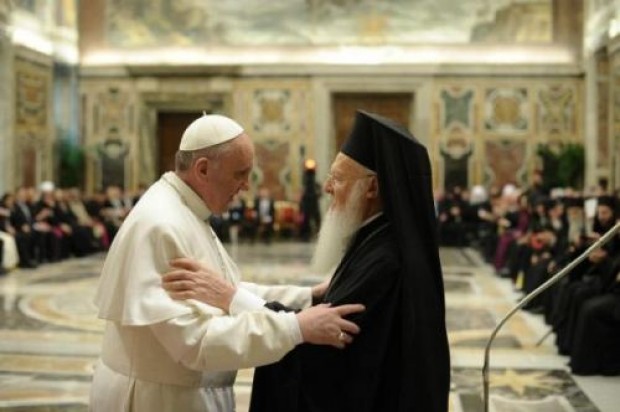 Review Hari Stefanatos
Pope Francis is expected, according to information, to visit the Ecumenical Patriarchate in Istanbul in November.
The head of the Roman Catholic Church reportedly expressed his wish to the Ecumenical Patriarch Bartholomew in June last year, during the accession celebration of the Church of Rome.
Pope Francis is expected to reciprocate the visit of Patriarch Bartholomew to Rome, visiting Fanar during the celebration of the founder of the Church of Constantinople, Apostole Andreas. Thus he continues the tradition that was created after the official resumption of contacts between the Churches of Rome and Constantinople in 1964.
A similar visit was made ​​in 2006 by Pope Benedict, while his predecessors Popes John Paul II and Paul VI had also visited the Ecumenical Patriarchate.
The visit of Pope Francis is combined, as in similar cases in the past, with an official visit to Ankara, where the Pope will have contacts with the state and political leadership of Turkey, with the status of head of state of the Vatican.
The official confirmation of the visit is expected once the services of the new President of the Republic of Turkey Recep Tayyip Erdogan are fully installed. So the pope will be the first leader to visit the new Turkish president.
It should be noted that it is the third time in 2014 that Francis Pope will meet with Ecumenical Patriarch Bartholomew I, after their meetings in Jerusalem, last May and in Rome, last June.