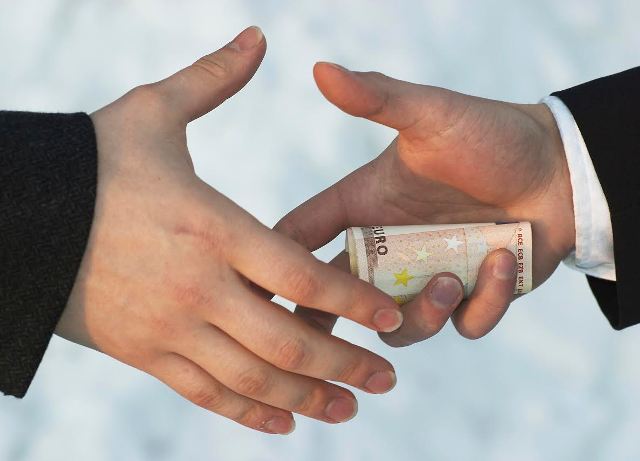 Skopje, 5 September 2016/Independent Balkan News Agency
An opinion poll recently carried out in the former Yugoslav Republic of Macedonia suggests that people with incomes up to 200 euros a month are mostly affected by corruption.
Macedonian Center for International Cooperation (MCIC) has published the results of the poll, which identifies the fact that the most corrupted officials in FYROM are ministers, political leaders, MPs and customs officials.
The poll points out that the poorest classes of society are the most affected by corruption and bribery.
Thus, people who earn up to 200 euros a month, are the ones who offer bribery for different services the most.
Citizens say that corruption is present in every segment of society and institutions.
Majlinda H, owner of a small business in Skopje says that there are many cases when she has faced corruption in institutions. "Corruption is everywhere. In the healthcare, in the cadastral office, everywhere. I have happened to face corruption", says Majlinda for IBNA.
Based on the opinion poll, on an ethnic point of view, as opposed to Macedonians, Albanians are more obliged to offer money or gifts to officials in the public sector.
"Albanians of Macedonia have suffered more from corruption as opposed to Macedonians. Out of them who have had to do with the administration, over 80% of Albanians have been asked bribes and 80% of them have offered bribes. Among Macedonians, this percentage is lower. 40% of Macedonians have been asked bribes, while 35% of them have offered it", says Emina Nuredinovska, project leader.
Meanwhile, less exposed to corruption are those who earn more than 1 thousand euros a month.
The research is backed by the Center for Studies of Democracy from Bulgaria. It has been realized with the support of USAID and its aim is to reflect the level of corruption in the country.
Its representative, Ruslan Stefanov says that FYROM must follow Croatia's steps in the fight against corruption, because at the moment, it is three times more corrupt than this EU country.
"According to the World Bank, the main problem in the region relates to the fact that the heads of states, politicians, judges and prosecutors are unable to lead a war against corruption", says Stefanov. /balkaneu.com/