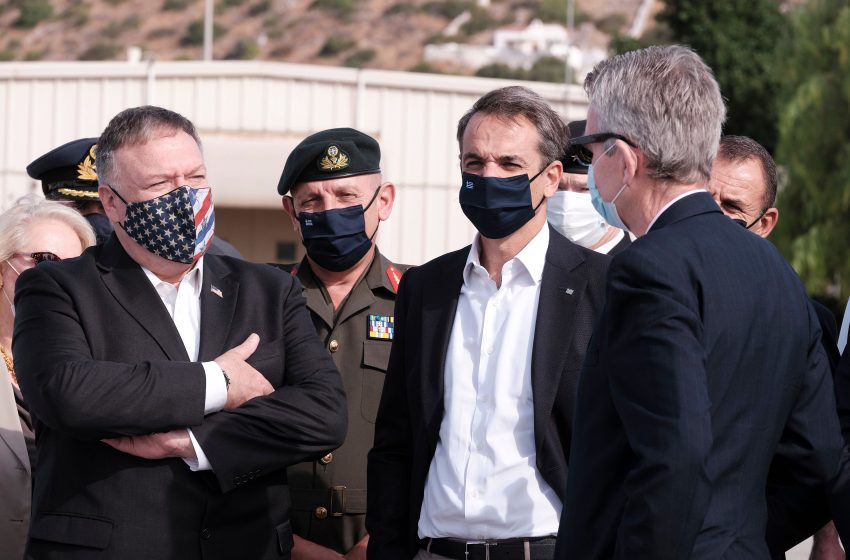 US Secretary of State Mike Pompeo wrapped up his almost three-day official visit of the  to Greece, as he is expected to return to the States tomorrow.
The US official, who was hosted in the Greek Prime Minister Kyriakos Mitsotakis' family residence in Chania, visited today the American military base in Souda.
"I therefore endorse his statement that the relations between our two countries have never been as close and productive as they are today. They are relationships that extend to all levels", stressed Kyriakos Mitsotakis in his remarks from Souda.
He added: "I am also glad that my friend the minister will be hosted in my place, here, in Chania, in Crete. Because it is on this island that both Greece's and – the heart of Greece and the Eastern Mediterranean beat, but also the strong heartbeat of the U.S.-Greek cooperation. It is NOT by chance that we are delivering these statements from 115 wing of our air force,".
"Souda is thus most becoming most strategic part of the region where the interests of both our countries converge with those of security and peace", the prime minister added.
"The relationship between our two countries is at an all-time high.  It's getting stronger.  It's evident by the conversations I had with the foreign minister yesterday and with the prime minister and his team today.  It's also evident from the historic set of engagements between the Trump administration and the administration of Prime Minister Mitsotakis.  This is the first time that the Secretary of State has visited Greece twice", said Secretary of State Mike Pompeo in joint statements with Greek Prime Minister Kyriakos Mitsotakis from the 115th Combat Wing in Souda.
"We have a very strong military relationship. We, the Americans, look to Greece for a true pillar of stability and prosperity in the Eastern Mediterranean and we are incredibly proud to support its leadership. We have very close ties. We spoke with the Secretary of Defense today […] and we're working to advance things that we did about a year ago with the Mutual Defense Cooperation Agreements. Today I have an announcement […], where the USS Hershel "Woody" Williams, the U.S. Navy's newest expeditionary sea base, will call here – will call Souda Bay home. It's literally the perfect choice in light of the facility's strategic location and it's symbolic of a defense partnership that will continue to expand and to grow. Our security cooperation today is especially important as Russia continues to destabilize the region, especially in Libya" Pompeo said inter alia.
"The U.S. also believes deeply that development of the Eastern Mediterranean should promote cooperation and provide a foundation for the durable energy security and economic prosperity of the entire region. We strongly support dialogue between NATO allies Greece and Turkey and encourage them to resume discussion of these issues as soon as possible.  I spoke with Secretary-General Stoltenberg just two days ago on the progress being made at NATO, and we hope that these talks can continue in a serious way", he stated, adding that Greece was a very good friend of the United States and a "a truly shining light in the region'.
Earlier today, the Greek Prime Minister and the US Secretary of State paid a joint visit to the Souda military base in Crete. This was followed by an extended meeting at the 115th Wing. /ibna