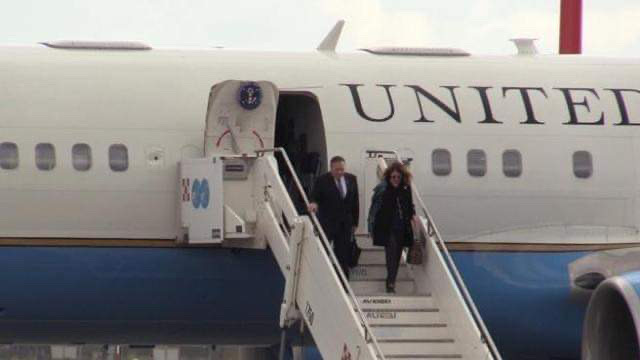 US Secretary of State Mike Pompeo arrived in Ohrid today to meet with President Stevo Pendarovski and Prime Minister Zoran Zaev. The State Department says Pompeo wil emphasize that the Prespa Agreement is an incredible step that demonstrated leadership and real courage of the leaders both in North Macedonia and in Greece, and a real addition to stability and prosperity, which has allowed North Macedonia to move forward on its NATO-EU membership track.
The US Department also underlined that the US is focused on the Western Balkans as an important strategic part of the idea of ​​a united Europe. President Pendarovski stressed that the arrival of Pompeο in North Macedonia makes our country part of the influential states in the region.  "Pompeo does not come to the region because of problems that have not been resolved, but it comes to thank those countries that have been on the Euro-Atlantic course for years and who have proven to the countries of the region that this is the most efficient way to build a democratic society and prosperity, Pendarovski stated.
Former prominent politician Imer Selmani says Pompeo delivers three messages. "The clear message with this visit is that North Macedonia is already NATO territory, a safe place within the big Euro-Atlantic family. And the third message is about the political elites, who will be given the message that they should not experiment with the state", Selmani said.
During his stay in Ohrid, Pompeo will meet with President Stevo Pendarovski and Prime Minister Zoran Zaev, with Deputy Prime Minister for European Affairs Bujar Osmani, as well as with Foreign and Defence Ministers Nikola Dimitrov and Radmila Sekerinska respectively.  After Ohrid, the US Secretary of State will travel to Athens for an official visit./ibna