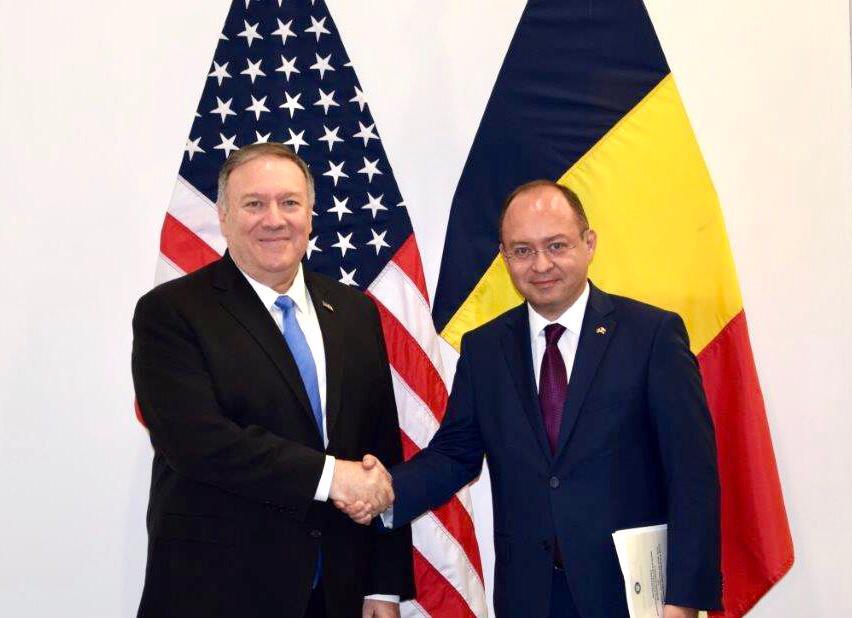 Romanian Foreign Minister Bogdan Aurescu met on Wednesday with US Secretary of State Mike Pompeo, as part of the NATO Ministerial Conference in Brussels. It was the first meeting between the two Ministers since the new government took over in Romania
According to a statement by the Romanian Ministry of Foreign Affairs, Bogdan Aurescu reiterated the determination of Romanian President Klaus Iohannis, Prime Minister Ludovic Orban, the government and himself to develop and deepen their bilateral Strategic Partnership and enhance the efficiency in the country's energy cooperation with the USA.
In this context, Aurescu and Pompeo referred to the joint statement of the Presidents of Romania and the US of August 20, 2019, which was adopted during President Klaus Iohannis' visit to Washington, reiterating the interest of both parties for specific progress to be recorded in all sectors of the Strategic Partnership, including the fields of Defense, Energy and Cyber ​​Security, economic cooperation and investments.
According to diplomatic sources, the Romanian Minister of Foreign Affairs thanked his US counterpart for the steady support the US have shown and for the strengthening in NATO's stance in defending and preventing the eastern threat by supporting the need to increase US military presence in Romania, given the unstable security recorded in the Black Sea region.
At the same time, he reiterated the firm commitment of the new Bucharest government to a fair distribution of powers, confirming the continued investment of 2% of GDP to the defense sector and to Romania's participation in foreign military missions, which was highly appreciated by Mike Pompeo.
Minister Bogdan Aurescu reassured that the new government has prioritized the enforcement of the two recently signed Memoranda of Understanding between Romania and the United States on the fields of nuclear policy and 5G infrastructure.
Aurescu and Pompeo discussed the agenda of the NATO Ministerial Conference and stressed the importance of promoting the process of adapting the Alliance, following the recent developments in Euro-Atlantic security. In this context, the Romanian minister underlined the importance of implementing the package for the Black Sea region, which was approved by the allied ministers of foreign affairs in April this year in Washington. In this context, he pointed out the importance of increasing the involvement of the allies in the multinational brigade in Romania, as well as intensifying the Alliance's naval presence in the Black Sea, alongside that of air patrols", the Ministry's announcement states.
The Romanian Minister of Foreign Affairs also made a concise presentation of the political situation in the Republic of Moldova and stressed the importance of the Transnistrian case for the security of Romania and NATO.
Finally, Bogdan Aurescu supported the accession of Romania, a strategic partner and a dedicated US ally, to the Visa Waiver program.
Minister Aurescu invited his US counterpart to Romania./ibna