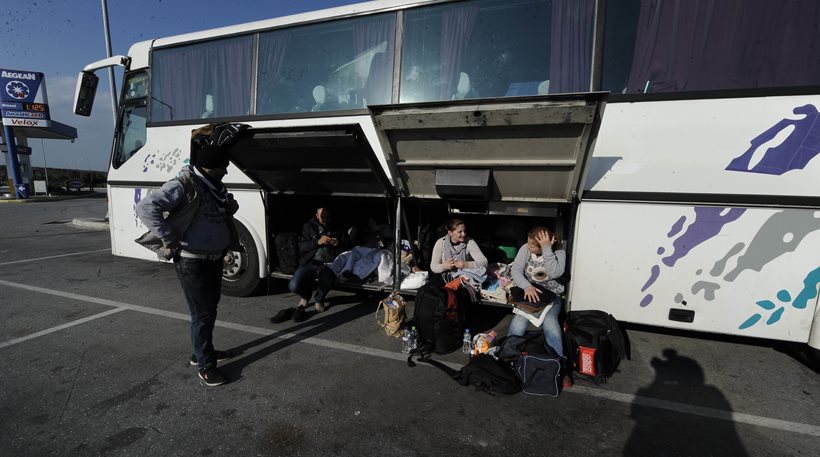 Athens, June 14, 2016/Independent Balkan News Agency
By Spiros Sideris
A total of 26 buses with 1,011 refugees (58 Iraqis and the rest Syrians) had departed until 5 pm on Monday from the informal camp at the gas station of Pathe, at the height of Polykastro.
On Monday morning the operation was conducted in a very calm atmosphere, with the refugees boarding the buses voluntarily.
Police closed the Thessaloniki-Evzoni Motorway, from St. Athanasius node as the Polykastro turn, at 6 am and the traffic was directed to the old highway.
The operation for the transportation of refugees and migrants from the informal settlement began shortly before 7:30 in the morning and the first four buses departed around 10:30.
From early in the morning the refugees began packing their things and when the first buses arrived they were already ready. At the same time, children continued to play casually as if they weren't fully aware that in a short time they were going to leave.
Increase of refugee-immigrant arrivals at the islands of North Aegean
A total of 226 refugees and migrants arrived at the islands of North Aegean at the weekend.
Specifically, from the morning of last Saturday until Monday, June 13, a total of 108 persons landed in Lesvos, 53 in Chios and 65 in Samos.
This fact, as had been reported by AMNA on Sunday, on the occasion of three boats with refugees and migrants who had arrived on the northern coasts of Lesvos, has upset the authorities.
Indeed, a senior member of the Greek prosecutors reiterates, taking into account the total movements in the North Sea, that "the mobility in the weekend is alarming, because it shows that the Turkish side has stopped controlling the migrant routes to the coast". He added that it seems that "the controls the Turkish Coast Guard at sea have also been reduced".
On Monday morning, at the hotspot of Lesvos there were 2,974 refugees and migrants, in Chios 2.495 and in Samos 1,103.
Overall there were 6572 persons on the Greek islands of the Mediterranean.