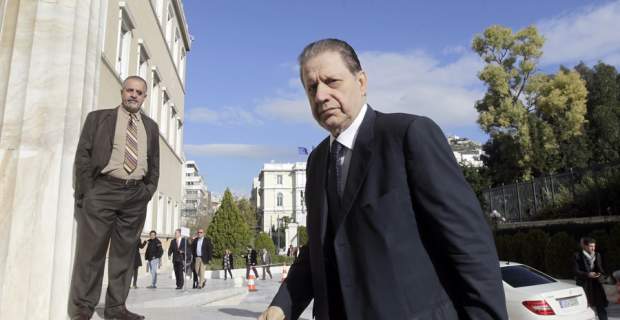 The candidacy of the former Speaker of Parliament, Minister and Deputy to the New Republic, Byron Polydoras to the National Council for Radio and Television (NCRTV) as announced by the Speaker of the Greek Parliament Nikos Voutsis caused a huge reaction.
According to Nikos Voutsis' announcement, the majority proposal for the establishment of the NCRTV are: Byron Polydoras for the position of President and Rodolfo Moronis for the position of Vice President.
Both Polydoras and Moronis belong to the conservative bench and are a checkmate for Alexis Tsipras in an attempt to force the main opposition New Democracy Party to agree to the establishment of the NCRTV.
This of course was not possible, as the ND party announced immediately after the publication of the Government's intention that "everyone knows that Mr. Byron Polydoras, proposed by Mr. Tsipras for president of the National Broadcasting Council, does not meet the conditions that the institution requires."
Both the 'Democratic coalition' and 'the River' had a similar response.
After its communications defeat following the decision by the Council of State the government, through its selection of Polydoras, is trying to show that it has no problem in approaching anyone, that may be suitable for the NCRTV.
It proposes a historical member of ND, who was both a Minister and Speaker of the Hellenic Parliament, albeit short-lived, to assume the position of President of the Council.
It's transferring the problem created for the Government by the Council of State, within ND, since Polydoras who was thrown out of the party by Antonis Samaras, belongs to the popular right group created by Costas Karamanlis, thus creating new conflicts in the Opposition party.
This move strengthens the Government's argument that ND does not want to set up the NCRTV, and only cares about the interests of media bosses that thrive on lawlessness in the broadcasting landscape and exposes it to the Greek citizens.
However neither the Government nor Alexis Tsipras are left unscathed by this decision with a part of SYRIZA believing that Byron Polydoras is a very bad choice for this position. But there were similar reactions for selecting Prokopis Pavlopoulos to the position of President of the Republic, when in fact the situation inside SYRIZA was even more difficult with an even stronger opposition.
However the choice for Prokopis Pavlopoulos, has so far been seen as a success by the whole of SYRIZA, the Government and the political world, and perhaps this may contribute in soothing any uncertainty within the party.
The next few days, will be of particular interest, according to IBNA sources, there will be initiatives on the part of the Government that will expose ND and the role it has in the continuation of corruption, targeting both its leader Kyriakos Mitsotakis, and members close to him./ΙΒΝΑ