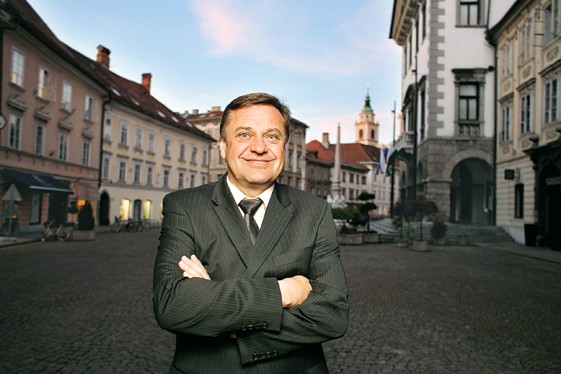 Review Hari Stefanatos
Based on the latest survey, current mayors of Ljubljana Zoran Janković (photo) and Maribor Andrej Fištravec lead the election race and are expected to be re-elected.  Around 40% of the voters remain undecided however.
The poll gives current mayor of the capital 40.5%, but just 10.8% for his list, resulting in the mayor losing the majority in the city council. Second on the list comes Miro Cerar's SMC list with 9.9%, followed by he United Left (ZL) got 7.3%, the Democrats (SDS) 6.2%, and the SocDems 5.6%.
Janković is trailed in the mayoral rankings by Damjan Damjanovič, but with 9.8% support the gap between them in huge. The remaining ten candidates got less than 2%.
Things are more complicated in Maribor, with Fištravec who succeeded Kangler in March last year, getting 21.2%. Kangler's return is supported by 15.7% of the respondents, while 8,6% want Anton Kranj' of the SMC, and 4.7% are infavor of Tomaž Kangler, who is backed by the SDS.
The SMC, however, could get the best result among the lists for city council, receiving 12.2%. The SDS got 7.9%, Fištravec's list 7.3%, the SocDems 6.5% and the ZL 5.8%.
Definite participation in the election was announced by 49% for Ljubljana and by 55% for Maribor.
The survey, which was published on Saturday, was carried out between 22 and 25 September and included 400 respondents.
(Source: Sloveniatimes)