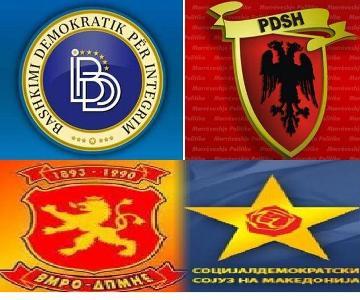 Skopje, April 22, 2014/Independent Balkan News Agency
By Naser Pajziti
Polls have been carried out about the ranking of political parties a few days before the end of the electoral campaign of the April 27 elections.
According to a trusted poll carried out by "Dimitrija Cupovski" Institute in Skopje, the victory will belong to the parties of the current government coalition, VMRO-DPMNE from the Macedonian side and Democratic Union for Integration (BDI) from the Albanian side.
43% of respondents have declared that VMRO-DPMNE will win the elections, 12,9% said that LSDM will win them, 8,8% responded in favor of the Albanian party BDI, 4,3% for the other Albanian party PDSH, while 29,7% are still not determined.
As far as the second round of the presidential elections are concerned, 33,8% said that they would vote in favor of George Ivanov, 14,2% declared that they would vote for the candidate of the Macedonian opposition, Stevo Pendarovski, while 26,7% would not vote any of the candidates.
This poll was conducted with the participation of 1500 respondents from all over the country through the phone.
Another poll was published today by the Institute for Research of Policies and Good Governance. According to this poll, prime minister Gruevski and his party, VMRO-DPMNE will win 54 seats in parliament, LSDM will win 38 seats, Ahmeti's BDI will win 19 seats, PDSH 6 seats, RDK 2 seats and Macedonian Civic Option only 1 seat.
According to this information, VMRO-DPMNE in the Macedonian camp and BDI in the Albanian one, enjoy most of the trust among voters.
What's worrying in this poll is the figure of undecided persons or those who will not vote any political party. 23,1% have responded that they don't know, while 10% have responded that they haven't decided yet. /ibna/