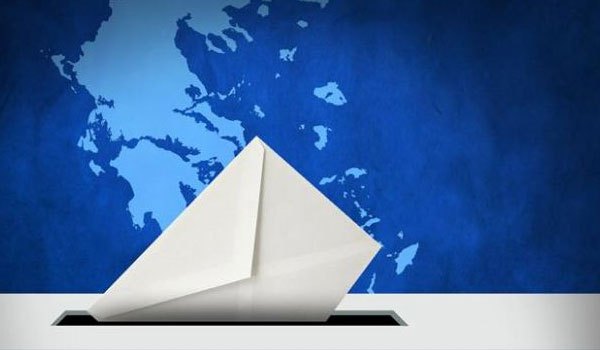 Athens, September 20, 2015/ Independent Balkan News Agency
By Spiros Sideris
Update 21:00
Estimate election result 20th September 2015
SYRIZA 35,5% – 145 seats
New Democracy 28% – 75 seats
Golden Dawn 7,1% – 19 seats
PASOK- DIMAR 6,4 % – 17 seats
Communist Party of Greece 5,5% – 15 seats
The River 4% – 10 seats
Independent Greeks 3,7% – 10 seats
Enosi Kentroon (Union of Centrists) 3,4% – 9 seats
Laiki Enotita (Popular Unity) 2,9%
Other       6,2 %
Upadate 20:15
Final Exit Poll 20th September 2015
SYRIZA 33-35%
New Democracy 28,5-30%
Golden Dawn 7-8%
The River 4-4,5%
Communist Party of Greece 5,5-6,5%
Independent Greeks 3-4%
PASOK 6-7%
Laiki Enotita (Popular Unity) 2,5-3%
Enosi Kentroon (Union of Centrists) 3-4%
Other         2,1- 3,1%
——————————————————————————————————————————
19:30: First Exit Poll 20th September 2015
SYRIZA 30-34%
New Democracy 28,5-32,5%
Golden Dawn 6,5-8%
The River 4-5,5%
Communist Party of Greece 5,5-7%
Independent Greeks 3-4%
PASOK 5,5-7%
Laiki Enotita (Popular Unity) 2,5-3,5%
Enosi Kentroon (Union of Centrists) 3,2-4,2%
Other         2,1- 3,1%
Greeks are going to the polls for the parliamentary elections that are conducted via a list-system with the participation of 19 parties and party coalitions. The first safe estimate of the election result will be announced shortly after 9 PM when 10% of results from polling stations nationwide will be accumulated.
Polls opened at 7 AM and will close at 7 PM. A total of 9.836.997 million Greek citizens are called to exercise their voting rights according to official data of the Interior Ministry, of which 4.763.084 are men and 5.073.913 are women. A total of 116.745 are first time voters, of which 108.636 are young aged between 18 and 19 and 8.109 people are new voters by naturalization. The electorate at this election is larger by 28.237 compered to the January elections but smaller by 13.805 compare to the May 2012 elections.
This is the third time in 2015 that Greeks go to the polls. On January 25, 2015 the election was victorious for Syriza with 36.34% with New Democracy at 27.81%. Seven parties participated parliament and Alexis Tsipras formed a government with the Independent Greeks (ANEL) party of Panos Kammenos.
The Greek referendum in 2015 was called 28 June 2015 and was conducted July 5 of the same year. The question was whether or not the draft agreement of the three institutions (European Commission, European Central Bank and International Monetary Fund) which was proposed on June 25 2015, should be accepted or not. The vote resulted in the rejection of the proposal with 61.3%. The reason for the calling of the referendum was the failure to reach agreement in the negotiations between the Greek government and its creditors by the end of June 2015.
On August 20 a snap election was called following the resignation of the Tsipras administration. In a televised message to the nation, Alexis Tsipras ruled out the formation of an all-party government and said "the popular mandate of the 25 January 2015 elections had exhausted its limits".
Following the resignation of the government and in accordance with the Constitution, exploratory mandates for the formation of a government were awarded which did not ead to the formation of a government by the current House, resulting in the formation of a caretaker government that led the country to election. On August 27 the President of the Supreme Court, Vasiliki Thanou was sworn in as caretaked Prime Minister and signed a presidential decree to call elections on September 20, 2015..